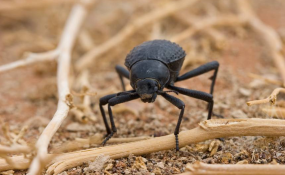 Photo: Jochen Bihn/ Flickr
ENTOMOLOGISTS from the North Arizona University have embarked on an N$11 million study of the darkling beetle to advance scientific understanding of these insects found in the Namib Desert of southern Africa.
With funding from the National Science Foundation, NAU entomologist Aaron Smith will embark on a major study that seeks to advance scientific understanding of these remarkable insects, including their phylogeny, evolutionary history and global biodiversity patterns.
More than 20 000 different species have been identified, but thousands more are still awaiting discovery.
"This project will resolve centuries-old issues in our understanding of desert darkling beetles," he said.
Smith added that the darkling beetles are an incredibly rich species and morphologically diverse family, adding that current understanding of their evolutionary relationships and bio-geographic history is extremely limited.
He said the research will result in a revision of the higher-level classification of the sub-family, and an extensive knowledge base of its evolutionary ecology and bio-geography adding the explorations of the beetles' ability to adapt in diverse ways to arid habitats across evolutionary time. The darkling beetles can live up to 10 years, which is a long time for an insect, and Smith wants to know why.
"This research will also have implications for understanding patterns of past climate change and adaptations that have enabled darkling beetles to survive in many of the harshest habitats on earth," he stated.
The project will also provide researchers with opportunities at NAU and in Namibia to train new researchers.
The American entomologists will mentor a post-doctoral researcher in all aspects of the project; supervise two PhD students, whose research development will include cross-disciplinary training; and provide research opportunities and ongoing mentoring for at least 12 undergraduate students.
"Additional students will be trained through a hybrid learning course at NAU and Namibia's renowned Gobabeb Research and Training Centre, offering courses in systematic entomology, systematic botany and bio-geography," he continued.
Smith and his team will establish partnerships with African scientists and students, particularly in Namibia and South Africa, to develop research skills locally, and disseminate data more broadly to researchers and members of the public.
Participants in the study will help grow well-identified synoptic collections for the Gobabeb Research Centre, the National Museum of Namibia and the Ditsong Museum of Natural History in South Africa.