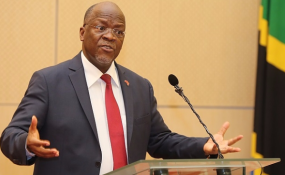 Photo: Daily News
By Alex Malanga Amalanga@tz.nationmedia.com
Dar es Salaam — The Treasury registrar had been directed to ensure that all companies and institutions owned by the state pay dividends to the government as the law requires.
The directive was issued yesterday by President John Magufuli when receiving a Sh1.5 billion cheque as dividend for the 2017/18 financial year from state-owned telecom- TTCL Corporation.
Dr Magufuli said Tanzania had a total of 91 companies and institutions, which are required by law to pay dividend, but it was not more than 50 of them, which do so. In the 2014/15 financial year, only 24 companies and institutions paid a total of Sh130 billion as dividend to the government.
In the next financial year, 25 companies and institutions paid Sh249.3 billion. The fifth phase government's efforts in strengthening revenue collection bore fruit after 38 companies remitted Sh677 billion in the 2016/17 financial year. an improvement of 13 companies compared to the previous year.
"It goes without saying that the previous treasury registrar was colluding with dishonest investors in evading dividend remittance," noted Dr Magufuli.
"Now, I order the current treasury registrar (Athuman Mbuttuka) to do what it takes to ensure all companies and institutions, which are supposed to pay dividend, adhere to their legal obligation," ordered Dr Magufuli.
He called for legal action, including revoking operational licenses, to be taken against companies that would not comply.
"We need profitable investors. It is unacceptable for companies and institutions to be operational for 15 years without paying even a single cent as dividend to the government," stressed the Head of State.
Despite its few market shares, standing at 1.1 per cent, TTCL paid the aforementioned dividend after recording a Sh28.5 profit after tax, according to the company's director general, Mr Waziri Kindamba.
The corporation's number of customers has jumped to 800,000 to date, well above 247,000 that was recorded two years back. Mr Kindamba said this was attributed to the government's decision to buy 39 per cent of Bharti Airtel, an Indian investor, at a cost of Sh14.9 billion and become a full owner of the company. "Our partnership with Bharti Airtel was not a win-win situation; that is why the government did not receive a cent for 15 years," noted Mr Kindamba.