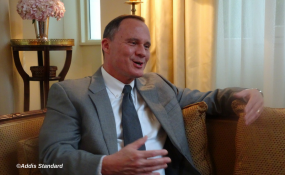 Photo: Addis Standard
By Dargie Kahsay
Human Rights Council (HRCO) has called on the people and concerned bodies to safeguard the ongoing reforms by the Premier to widen the political landscape and democratization process.
According to a statement released yesterday HRCO recognizes and appreciates the new reforms taken by Prime Minister Dr. Abiy Ahmed specially on widening the political landscape, ensuring democracy and human right protections.
HRCO board chairperson Ameha Mekonen told journalists that the new reforms and releasing of prisoners, lifting the state of emergency and related reforms are among the good step for the protection of human rights.
Ameha stated that during the past three years, the government had declared state of emergency twice which had an impact on the human rights of the people including the freedom of movement, speech, and lead for the death and arrest of innocent civilians.
According to the chairperson, Prime Minister Dr. Abiy Ahmed has taken commendable steps on human rights, widening political landscape and democratization, he added.
Ameha stated that Ethiopia had passed through similar opportunity in 1974 by the effort of the people, but immediately the public movements were hijacked by a military junta and the country lost its opportunity. He added that although Dr. Abiy is taking many reforms to answer the public questions, the unrests and ethnic clashes in different parts of the country are indicators to lift the reforms.
The chairperson said that HRCO sees the chaos created in some parts of the country as threats to the golden opportunity. He stated that displacement of people from their homes is continuing and the displaced people from different regions are under humanitarian crises. The displacement of people from Benishangul Gumuz region, conflicts in SNNPR region in Chelelek, Gedo and Guji, displacement of people in Oromia regions of Buno Bedele and Qelem Welega are threats to the current reform, he added.
According to the council's statement, the grenade attack at Mesqel Square during the rally on Saturday to recognize and to support the reforms of Prime Minister Dr. Abiy is also an indicator to lift the opportunity of the country.
The council further urged the government to uphold the reforms of widening the political landscape and human rights protections and to improve proclamations like terrorism, civic societies and press. It has also called on all political parties, activists, civic societies and the people to play their role for the reforms taken by the government.
HRCO was established in 1992 focusing on human rights and prepared more than 140 regular and around 40 extraordinary reports related to human rights, according to the Chairperson.