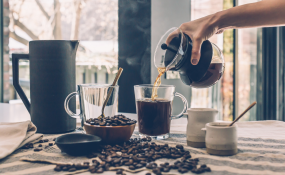 Photo: Pexels
By Michel Nkurunziza
The National Agricultural Export Development Board (NAEB) has said that more efforts are being leveraged to increase both quantity and quality of coffee in the country so as to increase exports to 24,500 tonnes this year.
Dr Celestin M. Gatarayiha, the Coffee Division Manager at NAEB told Sunday Times that coffee exports continue to increase considering that the quantity of coffee exports in 2016 was 22,000 tonnes which increased to 23,000 tonnes in 2017 and is expected to reach 24,500 tonnes this year.
"We have put in place different strategies to make sure both productivity and quality increases for coffee. In 2015, we carried out a census which showed that some old coffee trees aged 50 and 70 years need to be replaced because they are vulnerable to disease. Three years ago we created zones of coffee so that we work with coffee factories to prepare nurseries to get coffee seedlings and give them to farmers in the zones for planting," he said.
He said that by 2024, the plan is to have planted 34,000 new coffee trees adding that with proper application of fertilizers as well as integrated pest management, this will double productivity.
"We are putting efforts in preventing pests called Antestia bug that affects 30 per cent of coffee if not controlled. We have decided to use integrated pest management by applying best agricultural practices, pest control approaches and pesticides. But because chemical pesticide is harmful to environment and biodiversity in general, we are looking at using environmental friendly pesticides locally produced from pyrethrums," he said, adding that when quality is improved, the price increases on the international competition.
"If a farmer does not get what they want from coffee plantations, you cannot expect sustainable production".
Low productivity
Dr Alfred Bizoza, an Associate Professor in Agricultural Economics at the University of Rwanda who has researched issues affecting coffee production says productivity is still low because production is still Rwf177 for a kilogramme of cherry yet there is need to invest Rwf300 to produce one kilogramme of cherry.
"There is need for farmers who work in cooperatives to increase productivity because only 7 farmers per 50 farmers belong to cooperatives today".
He explained that research done in 2015 indicated that members of the cooperatives managed to harvest 1.5 kg from one coffee tree while non-members only harvested 1.4 kg from one tree in the districts of Rwamagana, Gakenke, Huye and Nyamagabe where the research was conducted.
In 2016, cooperative members harvested 1.17 kg from one tree while non-members got 1.48 kg from each tree.
The findings also showed that in 2017, members of cooperatives harvested over 2 kilogrammes of coffee per one tree while non-members harvested only 1.47 kilogrammes from each coffee tree.
Isaac Nsanzamahoro, a member of Dukunde Kawa cooperative which has 1,176 members that grow coffee on 268 hectares in Gakenke district said that there is still need of mechanisms to help farmers get profits from what they invested.
"Today a farmer can be paid Rwf240 per kg of cherry yet farmers need at least Rwf280 per one kilogramme of cherry because growing coffee requires enough efforts and fertilizers".