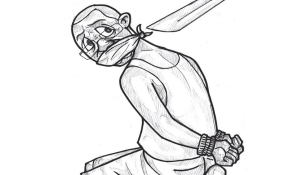 Photo: This Day
By Odita Sunday
Five personnel attached to Topline Security, a private outfit securing the Nigerian National Petroleum Corporation (NNPC) pipeline at Atlas Cove, are still missing while two others were severely injured during an attack on them by villagers who aid suspected pipeline vandals at the Atlas Cove at the weekend.
Topline security is the official private security company employed by the NNPC to protect pipelines in Lagos creeks and its environs. The company recently said despite its achievement in anti-smuggling of petroleum products and vandalism, it has been having problems with some vandals and their sponsors allegedly supported by some military personnel.
Following the problem, the pipeline protection company was asked to go on break for two weeks, enabling the villagers and their security agents saboteurs had field days destroying pipelines and scooping fuel.
One of the firm's managers told The Guardian that on resumption of duty on Friday morning, suspected vandals in the village who were not happy with their return, allegedly attacked some of its personnel, abducting five while two escaped with severe machete cuts.
Eletu Martin, a fisherman said: "I was fishing when I heard some group of boys saying they have come back again. They want to spoil business again. I thought they had gone for real. The security men were taken unawares as they surrounded them with guns and other weapons. They marched away some of them, but I can't say the actual number of security men they took away, though some of them escaped. The security men reinforced, but it was too late as the vandals had already gone far".
However, 23 suspected vandals including two women have been arrested in connection with the attack on Topline security agents and for vandalising NNPC pipeline.
One of the suspects, Olamide, who spoke with newsmen said: "I heard the security personnel were attacked, but I was not involved. I was arrested where I was scooping fuel. My job is scooping fuel. I won't lie to you. Majority of us here came to look for money to fend for our families. We are not the real people destroying pipelines. We see uniform men who are dressed in full military regalia breaking the pipelines with sophisticated machines.
"After then, the military people would seal the pipeline with their equipment, but they do it in a hurry so there will be leakages here and there. It is the fuel that is dropping from the leakages that we scoop. They drop in the water and we scoop and separate it from the water. I swear, I did not attack the security personnel.
"We are not really happy with Topline security because they spoil show for us. We have no job and you know that we are predominantly fishermen, sand dredgers and farmers, but the business is no more lucrative since Chinese people have taken over every business including sand dredging. The only possible way of making money is the scooping of fuel and Topline is stopping us from making money. The community is not really happy. For me, if I scoop 50 litres of fuel twice a week, I would be making about N42,000 every week and that is enough to take care of my family."
A female suspect, Beauty said: "I don't live here. I only visited a friend, but she was not at home. While waiting for her, I saw people with empty jerry-cans. When I asked where they were going to, my friend's neighbour explained to me that they have been scooping fuel since one week as the private security guard taking care of the pipelines had been sacked by the government, so I quickly joined them. They gave me two jerrycans. Unfortunately, when we arrived, we were arrested by the security guards. I blamed the woman that told me that we would scoop and scoop as many times as we wanted."
Managing Director of Topline security, Mr. Joshua Aminu, said: "We were having some challenges with some naval officers and NNPC, which contracted us to guide the pipeline asked us to stay clear for two weeks for tension to calm down and we obeyed. After two weeks, we were called to resume duty.
"When we resumed, we were hungry and I sent seven of our men to go and buy food for us. On their way, the villagers waylaid them, five were abducted while two escaped with severe machete cuts. Our enforcement team also arrested some vandals scooping fuel. We arrested 23 persons. Within these two weeks that we were not on guard, they have destroyed pipelines worth several millions of money.
"This is pure economic sabotage. They are destroying government property, wasting billions of money, yet the government said we should not bear arms. How can we fight vandalism with ordinary hands when the people we are fighting are fully armed? The Nigeria Navy should join hands with us to fight vandals who are killing our economy and our future," he said.