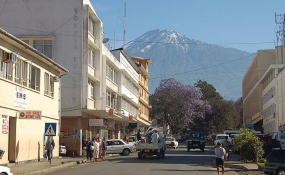 Photo: Wikimedia
By Hazla Omar in Arusha
IF all goes as planned, Arusha is set to have the first flyover bridge on the busy Goliondo Road.
This came to light during an inspection tour by the Deputy Permanent Secretary in the Ministry of Natural Resources and Tourism, Dr Aloyce Nzuki, of the soon to be launched Jakaya Kikwete Ngorongoro (JKN) Tower, which is so far, the tallest building in the Northern Zone.
The bridge will be the first flyover in Arusha City.
"Now that the building has been completed, it is up to Ngorongoro Conservation Management to ensure all tenants and businesses that will occupy the tower reflect its profile, which means travel, tourism and conservation," said Dr Nzuki. Earlier, Property Manager for Ngorongoro Conservation Area Authority (NCAA) Marco Silabi said the NCAA had consulted the National Housing Corporation (NHC) so that the latter could let them use an open plot adjacent to the new JKN Tower so that Ngorongoro could erect yet another skyscraper and join the two properties with a sky-walking gang plank.
Constructed at 45bn/-, the 18-storey JKN Tower, located at the intersection of Goliondo, Makongoro and East African Community Road, is one of NCAA's urban investments.
The JKN Tower is one of NCAA's enterprising projects to diversify its sources of income supplementing tourism activities that Ngorongoro is well known for.
"This is not only the tallest building in Arusha, but also the most attractive structure in the city, with its frontal profile consisting of 40 per cent glassworks and already airline offices, banks and tour companies have booked spaces," said the Chief Conservator, Dr Freddy Manongi.
The NCAA applied for loans valued at $15 million to cover 65 per cent of construction costs and already the JKN Tower is paying part of the sum from up-fronted rent payments by potential tenants.
"We constructed the skyscraper from a 'rounded traditional Maasai Manyata Design' and with guaranteed durability to last 100 years without major repairs," explained the project consultant, Dr Camilius Lekule from Afri- Arch Associates.
The JKN Tower is also billed to become 'One Stop Business and Tourism Centre' to bring under one roof tourism, travel, finance and hospitality industries.
It is the first building in Arusha to feature a Helipad. Rooftop restaurant and sky-walking bridge once it gets transformed into a 'Twin Towers' set up is set to open shop next September.