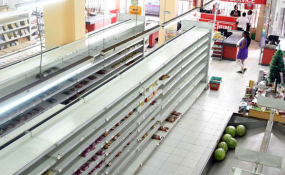 Photo: The East African
By James Anyanzwa
Uchumi Supermarkets has quietly closed more branches in Kenya as the chain looks to secure $10 million in emergency funding to stay afloat.
Uchumi -- which had only 12 branches still open -- confirmed it has now closed Nairobi's Koinange Street, Juja, Buru Buru and Kericho branches, ostensibly to renegotiate their leases with the landlords.
The EastAfrican, however, found that even the popular Nairobi's Aga Khan Walk branch had been closed. The firm ceased operations in Tanzania and Uganda in October 2015, leaving behind a trail of debt.
"Yes, we are affected but we are not dead," chief executive Mohamed Ahmed Mohamed told The EastAfrican.
The firm is urgently looking for between Ksh500 million ($5 million) and Ksh1 billion ($10 million) in the coming weeks to shore up its financial position, which has been badly damaged by sustained losses, failure to attract new capital from investors, and the Kenya government's reluctance to inject more money into the business.
"In the short term, we need to get cash. We cannot talk about long-term plans if we cannot sort out our short-term issues. We are engaging several people including financial institutions," Mr Mohamed said.
He acknowledged that the firm has no money at the moment to restock the business, pay workers and finance its day-to-day operations.
After more than four decades, the retail chain that was once the biggest in the region is showing signs that it could exit the retail business with millions of dollars unpaid to suppliers, workers and investors.
Uchumi is struggling with a backlog of debts, revenue losses, lack of supplies and deteriorating customer and investor confidence. The business was started in 1975.
Resuscitation attempts
Several attempts to inject new life into the chain failed, prompting the resignation of chief executive Julius Kipngetich last December, which scuttled a three-year plan to resuscitate the business.
US-based private equity firm Kuramo Capital, which had planned to inject Ksh3.5 billion ($35 million) into the business also pulled out at the last minute.
Uchumi's search for a strategic investor began in 2015, but has yet to bear fruit. It is understood that the firm's negative net-worth has made it difficult to attract investors.
Last week, Mr Mohamed said the firm is in discussions with two other investors from the US and that a deal could be reached in the next three months.
Uchumi is heavily indebted to the tune of Ksh4.35 billion ($43.5 million), being money owed to suppliers in Kenya, Uganda and Tanzania, including accumulated salary arrears of four months amounting to Ksh150 million ($1.5 million).
The firm has not paid salaries since March, and early in the year the high court allowed the retail chain to let go of some employees to cut costs and avoid insolvency.
"We had some redundancies, and we are drawing up a plan to see how best to resolve the salary arrears. I cannot tell you that I'm going to raise Ksh150 million ($1.5 million) before the end of July.
"I would be lying, and I don't like to lie. That said, I'm in consultation with relevant stakeholders," said Mr Mohamed.
Uchumi's work force is currently estimated at 800, down from a high of 1,500 in 2016.