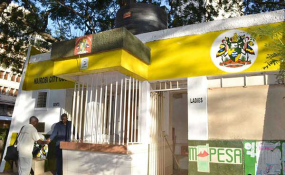 Photo: Daily Nation
By Collins Omulo
Nairobi City County residents will now be able to access all public toilets free of charge.
This comes after Governor Mike Sonko directed that access to all public toilets within the city be free.
Mr Sonko was speaking at Charter Hall Wednesday where he launched a Sh357 million bursary fund.
"City residents should not be charged to use public toilets. It is unfair to charge voters of Nairobi to use a public facility. I will give a directive that from today all toilets within the city to be free," said Governor Sonko.
PUBLIC TOILETS
There are 68 public toilets in Nairobi 17 of which are within the central business district where City Hall receives around Sh6.2 million in revenue every year.
In January 2017, a city resident Adrian Kamotho petitioned the High court to order the county government to scrap off levy for the use of public facilities.
Mr Sonko stated that the county government will increase the annual bursary funds by Sh500,000 in order to give equal opportunities for needy children in the county to get education.
"To underscore my commitment to education, today I launch the Nairobi City County bursaries to over 70,000 poor (but) bright children of Nairobi," he said.
BURSARY FUND
Under the bursary fund, each of the 85 wards in the county will receive Sh3.5 million.
Governor Sonko took a swipe at the administration of former governor Evans Kidero criticising it for not fully implementing a similar scheme.
"The previous administration had begun a bursary scheme but did not fully meet their commitment. I have ordered an audit into the bursary scheme and I have since declared payment to the genuine beneficiaries," said Governor Sonko.
Education Executive Janet Ouko lauded MCAs for pushing for the bursaries.
"We have encountered major challenges which led to delay (in issuance) of the bursaries... the government has put education as one of its priorities and our aim is to better the education system in the county," said Ms Ouko.
Nairobi County Assembly Education Committee Chairperson Millicent Mugadi urged parents not to allow their children to stay at home yet the county is giving out bursaries.
"As a committee we have had many challenges but we are happy that children within our county will continue learning because of the bursaries," said Ms Mugadi.