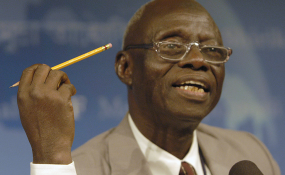 Photo: Vanguard
By Isiaka Wakili
President Muhammadu Buhari on Thursday has vowed to honour late former Governor of Central Bank of Nigeria (CBN), Adamu Ciroma.
In a statement by his spokesman Femi Adesina, Buhari affirmed that Ciroma would also be honoured for his contributions in promoting democracy in Nigeria.
Speaking on the death of the elder stateman, the President said he received with sadness, the news of the passing of the politician.
Buhari, on behalf of himself, the Federal Government and all Nigerians, extended "sincere condolences" to the Ciroma family, the government and people of Yobe State on the passing of the elder statesman.
He expressed belief that Ciroma, as a political leader and Federal cabinet minister for Industries, Agriculture and Finance, at various points in his remarkable life, would be long remembered for his remarkable service and dedication to the country's unity, progress and stability.
He said Ciroma's legacies should be a constant reminder to politicians wishing to work for the good of their communities and the country.
The president prayed that Almighty Allah grant Ciroma eternal rest and comfort the elder statesman's family, relatives, friends and associates.