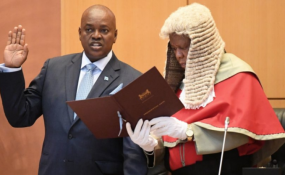 Photo: The New Era
By Bopa
Gaborone — Today marks President Mokgweetsi Masisi's 100 days in office. In his swearing-in address, the President promised to fight corruption, improve ease of doing business, create jobs, restore confidence in government and accelerate bilateral relations.
The President's first task was to select his Cabinet which was well received from many quarters as evidence of his commitment to drive the country forward and amend relations with labour and media, among others.
Judging by the comments of people interviewed by BOPA the President has not disappointed.
Veteran journalist and chairman of Botswana Editors Forum, Mr Spencer Mogapi, observed that President Masisi has had a good start so far and should be given a chance to continue the course he has taken.
"To me he has been able to tick all the main boxes correctly. He must continue and stay focused because the problems are dire. If he is not focused, the country may go astray," he said.
Mr Mogapi said the President's reaching out to the media was a good move that had been elusive for so many years.
Also, President Masisi was keen to kick start the economy and had already made it clear that he wanted to relax law dealing with immigration, as well as issuance of resident and work permits that made it difficult for people to come and invest their money in the country.
"He has further promised reforms in other important sectors of the economy such as land, mining and agriculture, so I think we should give him the benefit of doubt," he said.
Mr Mogapi advised President Masisi to do all he can to quell internal conflicts within his political party so that he can use the time to address problems besieging the country, including youth unemployment as he alluded in his inauguration speech.
Since taking office, President Masisi has interacted with a number of important stakeholders to put forward his vision and receive feedback.
During his inaugural meeting with High Level Consultative Council (HLCC), he informed the business community of plans to make adjustments in a number of areas to improve ease of doing business in the country. These included re-orientation of immigration and business policies to create a conducive business environment to attract and keep investors of value in Botswana. He informed the gathering that government intends to review policies relating to entertainment the sale of alcohol, adding that any changes should be done in an a way that accommodate the views of all stakeholders.
Some labour union leaders are happy with President Masisi's efforts to improve government's relations with labour movement. Ms Masego Mogwera, president of Botswana Public Employees Union (BOPEU), said there is atill some way to go to address the welfare of workers in the country, but appreciated the leadership's efforts to give unions an audience.
"So far some of the thorny issues that gave us a headache such as payment of overtime have been addressed, now we need to ensure compliance to the Employment Act."
Ms Mogwera welcomed the review of the labour laws and the establishment of a platform for unions to engage with ministries as initiatives that would go a long way in improving labour relations.
She was also appreciative of the Tuesday meeting with President Masisi, saying it is something that has not happened in a long time. Other moves that has pleased the union leader is the resuscitation of the All Party Conference to nurture democracy and promote political tolerance. Alliance for Progressive Secretary General, Dr Phenyo Butale said it was commendable that within the 100 days in office, President Masisi had made the right moves.
"So far he has corrected some of the things that were not right. Of course, any incoming president would do that. However, there is need for a clear roadmap that will address thorny issues such as transforming the economy and job creation for young people. That should be the yardsticks to analyse his performance," Dr Butale said.
Source : BOPA