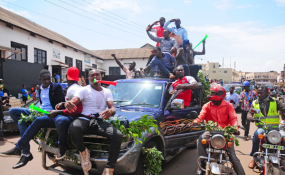 Photo: Stephen Otage/ Daily Monitor
By Joseph Omollo
The Electoral Commission (EC) has suspended Local Council elections in Tororo District after some of its officials received threats that they would be harmed.
According to the District Registrar, Mr Fredrick Muwaya Tibakuno, some leaders in the district have mobilised people to attack voters, candidates and EC officials on Tuesday, the polling day.
He said the commission took the decision after a gang of people assaulted one of the EC sub county supervisor at Mukuju Sub-county as he supervised nominations last week.
Police deploy in Nansana
In Ganda Village, Nansana Municipality, Wakiso District, police have deployed to avert chaos following the suspicious death of the village chairman who was campaigning to retain his seat.
David Kizza, died after allegedly being poisoned by supporters of his political rivals.
His death enraged several residents who are reportedly threatening revenge.
In Bukomansimbi District, leaders have expressed concern over the existence of handwritten voters registers that would be used in the Tuesday elections.
The district chairman, Mr Muhammad Kateregga and the Resident District Commissioner, Mr Mukasa Kityo, confirmed receiving information about the registers.
"We cannot let this go unnoticed unless we are mad," Mr Kateregga said on Monday.
This follows reports that there is a team of people who claim to be EC officials who have been combing villages registering voters.
"I am worried that this may be a mission intended to give an upper hand to a particular group of candidates," Mr Kateregga said wondering why registration would continue when the exercise was declared closed long ago.
He urged residents to reject the handwritten voters registers.
Mr Kityo said he would seek an explanation from the EC's district registrar.
"I am following it up with the office of the District Registrar before things get worse," Mr Kityo said.
However, Bukomansimbi District Registrar, Ms Rashidah Najjuka described reports of handwritten registers as baseless.
"Those are rumours. What we have are genuine registers which we intend to use," she said.
This comes on the heels of reports that there are about 13 "ghost" villages in the neigbouring Sembabule District .The villages were reportedly created without parish resolutions and lack boundaries ,which some candidates in LC election race and Lwemiyaga County MP, Mr Theodore Ssekikubo have protested .