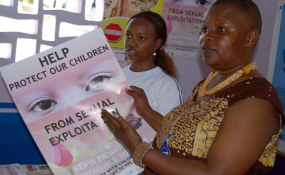 Photo: Daily Nation
opinion
By Charles Lwanga
Beneath the beautiful sandy beaches and hotels that line the Indian Ocean coastline in Kilifi lie cases of child exploitation that have gone unreported for years.
Scenes of young boys and girls aged between 12 and 17 years working as curio sellers and 'beach tour guides' in Watamu, criss-crossing the beach to compete for tourists, capture one's attention.
One of the girls, aged 13, keeps approaching various tourists along the beach, trying to sell cowrie shells and necklaces with the hope of getting money to feed her family. In a day, she earns between Sh100 and Sh2,500.
She then notices two Italian tourists alighting from a boat and rushes to them.
By the looks of it, closing a sale takes a lot of convincing. After laughter and handshakes, one of the Italians dips his hand into his pocket and hands the girl a Euro note that leaves her in joy.
Later, I walk to where the girl has displayed her wares.
"Some tourists do not see value in such items and it forces me into a long conversation to convince them to buy. I then take the money home where I live with my parents and siblings," she tells Nation.
SMOKE CIGARETTES
For others, making money is a different story. At Malindi Marine Park, three girls, aged 16 to 19, sit in a group as they smoke cigarettes.
They say they usually tour various beaches in Malindi, Watamu, Kilifi and Mtwapa to hunt for European "soul mates".
"We do that with the hope of finding rich foreign tourists to finance our college education. However, most of the tourists we come across do not meet our expectation despite having done this for the last two years," said one of them.
Another adds: "I once felt embarrassed after one of the tourists gave me only Sh1,000 after spending a night with him in a cottage in Watamu, where he pays about Sh16,000 to Sh25,000 a night."
She says she remains hopeful that one day lady luck will smile on her and she finds an Italian or British soul mate who will marry her, so that her family can get out of poverty.
ASK FOR SEX
"The job needs a lot of courage since some tourists are too shy to approach an African lady to ask for sex, forcing us to make the first move," said another in the group, adding that "but we do not have problems with tourists who are our customers".
Another girl aged, who is barely 18 years, sells foodstuff in Watamu and says she is forced to have sex with both local and foreign tourists visiting the beach for money due to poverty.
"My friends introduced me to the practice and my first experience was disgusting. I later met a foreign tourist and he paid 20 Euros (Sh2,300) after sex in a hotel which motivated me to continue with this practice," said the girl.
Ms Helda Esliy, a gender based violence activist, says cases of teenage pregnancies and early marriages among children aged between 14 and 17 are rampant in the county.
"The most affected constituency is Magarini, where we recently rescued an orphaned girl aged 14 married to a 17-year-old boy," she says, adding that "they were both counselled and went back to school".
CANNOT AFFORD SCHOOL
According to her, some parents say they send their children to sell to tourists because they cannot afford school. "Some parents claim they realised their children have been defiled after days, but when they used to go home with a lot of money and new clothes they did not question the source," she adds.
But Kenya Association of Hotelkeepers and Caterers Coast executive officer Sam Ikwaye says member hotels have signed a code of conduct to protect children against sexual exploitation and labour.
"Strict measures are usually taken against hotels going against the code of conduct," he says, adding that "but we are unable to control some hotels and villas which have not registered with us."
Mr Rashid Mohamed, a beach operator at Malindi Marine Park, says most Italian tourists are elderly people.
"Most of them are rich retirees who have come to vacation here, but sometimes they fall victim to local women who defraud them of their funds and properties in the name of love," he says.
SELL SAMOSAS
However, Mr Mohamed says he has also witnessed tourists preying on underage girls who sell samosas, cashew nuts and cowrie shells along the beach.
"They usually tend to be nice to the children and later invite them to their villas and that is where the life of the girl changes," he says.
Mr John Kipsiwa, the assistant county commissioner, says most cases of sex tourism involving children usually remain allegations since they go unreported.
"I usually hear these allegations about children being lured into sex by tourists in forums, but nobody has been coming forth to report them," he tells the Nation, adding "I urge parents to speak up and assist the government to stop these vice."
County Tourism minister Nahida Athman is, however, optimistic that training the beach operators will improve tourism, create employment and eradicate child labour and sex tourism.
Mr Martin Kazungu, a tour guide, says there is an upsurge of children in Malindi who beg for food and money from tourists.