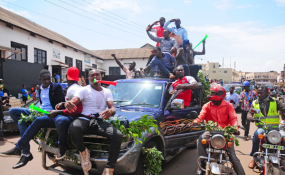 Photo: Stephen Otage/ Daily Monitor
Kampala — Ugandans of voting age who duly registered during the special voter enrolment for Local Council elections will be the only ones allowed to vote, the Electoral Commission has said.
"Those who specially registered for LC elections will vote, not all voters. If you did not register [afresh for LC elections], you won't vote," the commission secretary, Mr Sam Rwakoojo, told this newspaper last night.
This is because in previous national elections, a voter had a choice to register either in his/her home district or place of residence. For the LC elections, however, voters must be registered in the village where they live.
Voters will line behind their favoured candidates unlike in previous polls when candidates were picked through secret ballot.
The exercise will start at 7am and EC officials will verify particulars of voters until 10am before a one-hour last-minute voter education session by EC officials.
Contenders will then take positions at 11:30am and voters queue behind them and the elections are expected to be concluded within 30 minutes.
The EC officials will announce the winner at the polling station after which the successful candidate will handpick members to constitute the village council executive committee.
Any voter not in the line within stipulated time will be ineligible to vote, even if duly registered.
Like in all elections, police will man security at polling stations and election offences such as bribery, rigging or violence could lead to arrest or disqualification of supporters or a candidate.
Everyone will be expected to comply with guidelines issued by EC or security officials.
Election process
7am: Voters assemble at polling stations
7-10am: EC officials verify voters' particulars
10-11am: Voter education and briefing on voting procedure
11-11:30am: Voters queue behind candidates, vote counting
11:30am-12pm: Declaration of winners
12pm-4pm: Winners pick members of their executive