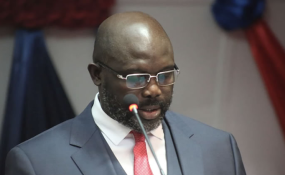 Photo: FrontPage Africa
President George Manneh Weah has made several appointments in government, affecting the local government of Sinoe County, an Executive Mansion release has disclosed.
Those appointed in Jaedea Statutory District include Robert M. Tarpeh, Superintendent; Mark M. Toe, Development Superintendent; Myer S. Swen, District Inspector; Saywon Doe Wleh, Relieving Commissioner; McCauley Doe, Land Commissioner; A. Konwon Blamo, City Mayor, Dyankpo City and Atty. Octavius B. Doe, Monthly & Probate Court Judge.
Those appointed in Bokon Administrative District include Adam T. Doe, District Commissioner; M. George Tarplah,Mayor, Duku City; H. Kofa Doe, Diyankpo Township Commissioner and Abraham Dennis, Commissioner, Bokon Township.
Those appointed in Jaedea District include Daniel J. Swen, District Commissioner, Jaedae Co. Dist.; Rufus S. Seongbae, Mayor, Tuzonburg City and Isaac Doe, Commissioner, Boyonnoh Kongbo Township.
In Bodae District, those appointed include Peter Doe Sieh, District Commissioner, Bodae Dist.; Melvin Lee Doe, Mayor, Jarpuken City; Saytue Wesseh, Mount Zuzu Municipality Commissioner and Joseph Nyenswah, Jarkaken Township Commissioner.
In Jaedae Quioh District, those appointed are Nathaniel D. Kongbae, District Commissioner; Jerry S. Wlatee, Seongbae Township Commissioner and Leviticus S. Tarpeh, City Mayor, Meneeh Municipality.
In Seekon Statutory District, those appointed are Robert S. Toteh, Superintendent; Walter G. Wriyee, Assistant Superintendent; Peter Doe, District Inspector; Nathaniel T. Manjah, Relieving Commissioner; John T. Tughab, Commissioner, Lower Seekon; Nathaniel Ferley, Commissioner, Upper Seekon; Robert Gayee, Commissioner, Saydee Township; David Queateh, Commissioner, Sloh Township, Isaac B. Quitoe, Commissioner, Tobo Township; George B. Geedeo, Commissioner, Saywiah Township; Benjamin P. Gmanneh, City Mayor, Pellokon City; Alfred G. Gboyee, City Mayor, Voogbadee City; A. Manjah Wleh, City Mayor, Judue Town City; Helena S. Bah, City Mayor, Plandiabo City, among several other individuals in the county.
Meanwhile, these appointments are subject to confirmation by the Liberia Senate where applicable.