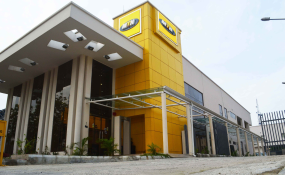 Photo: Premium Times
The Nigeria Labour Congress (NLC) on Tuesday chased workers out of MTN Call Centre, Ojota, Lagos, in continuation of its picketing of the multinational company over alleged unfair labour practices.
NLC members led by the President, Ayuba Wabba, arrived and disrupted operations at the centre on the second day of the picketing.
The congress started picketing the company's offices across states on Monday.
PREMIUM TIMES published how the MTN Kano office was picketed on Monday.
Addressing MTN workers at Tuesday's picketing, Mr Wabba vowed that NLC would not relent until the company respected workers' rights.
The News Agency of Nigeria (NAN) reports that the NLC is picketing MTN Nigeria over alleged casualisation and non-unionisation of workers.
Mr Wabba said that the congress would ensure that MTN Nigeria adhered to labour rules and provided improved work condition for its workers.
He noted that NLC members disrupted the company's operations on Monday when it began to picket the multinational company.
"We removed the wire used in barricading the gate of the office (headquarters), and NLC members went in and chased workers out," he said.
The NLC president said that the congress also chased workers out at the call centre in Ojota to ensure sucess of the picketing.
He alleged that MTN did not treat Nigerian workers well compared to treatment given to its workers in other Africa countries.
Tobechukwu Okigbo, MTN's Corporate Affairs Executive, however, denied the allegations on Monday.
(NAN)