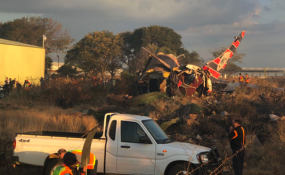 Photo: ER24
One person has been confirmed dead on the scene where a plane crashed at Wonderboom in Pretoria, paramedics said on Tuesday.
Earlier, ER24 spokesperson Russel Meiring approximately 20 people were injured when the plane crashed.
"Their injuries range from minor to critical," he said.
Meiring said they had two air ambulance helicopters on the scene as well. He said they were not able to comment on what caused the accident at this stage.
"Initial reports from the aircraft crash in Wonderboom has left allegedly 20 people injured, at least one critically," ER24 tweeted.
Best Care ambulance services' Xander Loubser said reports indicated that the charter plane was carrying passengers on an international flight.
He said the pilot was in a critical condition following the crash.
Emer-g-med's Jurgen Kotze, who said they were the first responders to the accident, said four people including the pilot sustaining critical injuries.
"The pilot is still entrapped in the cockpit of the airplane and sustained critical injuries. We are still treating him on scene," he said.
Kotze said the remaining passengers' injuries range from minor to moderate.
pic.twitter.com/VMrqVTCXvv-- Brian Banks (@milklogic) July 10, 2018
[UPDATE] - Initial reports from the aircraft crash in Wonderboom has left allegedly 20 people injured, at least one critically. @ewnupdates @eNCA @jour_maine @SABCNewsOnline @_ArriveAlive @FatalMoves pic.twitter.com/Hnu239Y0Kv-- ER24 EMS (Pty) Ltd. (@ER24EMS) July 10, 2018
Pretoria - PLANE CRASH RT @firstgroup_FRT close to Moloto Road in Pretoria @EMER_G_MED on scene busy with the patients @TrafficSA pic.twitter.com/rr6IzFc8IN-- Rob Beezy (@TrafficSA) July 10, 2018
Plane crashes next to Moloto Road in Pretoria East https://t.co/fmZMtVeoOd #ArriveAlive #PlaneCrash @firstgroup_FRT pic.twitter.com/iqvqSr4n7k-- Arrive Alive (@_ArriveAlive) July 10, 2018
[WONDERBOOM] - Aircraft crash leaves approximately 20 injured. https://t.co/L0Bo2UckhD @ewnupdates @eNCA @JacaNews @jour_maine @SABCNewsOnline @_ArriveAlive @FatalMoves @KayaTraffic @ReutersAfrica pic.twitter.com/HVfv7X3Ale-- ER24 EMS (Pty) Ltd. (@ER24EMS) July 10, 2018
Source: News24