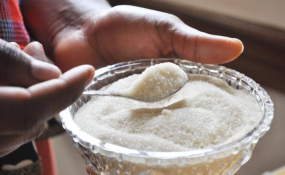 Photo: File photo/Daily Monitor
By Mohamed Ahmed
Supermarkets in Mombasa are running out of sugar following a crackdown on contraband that has seen 19 godowns closed so far.
A spot check of major retailers in Kenya's second largest city Tuesday showed most supermarkets had no sugar, leading to customers scrambling for the commodity whenever it was restocked.
Also affected are wholesale shops, hotels and bakeries in the Central Business District.
The sweetener was unavailable at the Tuskys outlet along Digo Road while the retailer's Bandari branch had only a few packets left today. However, within half an hour, out of 25 packets of sugar at the store only 10 remained.
"That is the only stock left. We do not have more sugar. We will be waiting to see if we can get any more from our upcountry source," said a Tuskys official.
At Budget Supermarket, the salesmen revealed that the stock reporters saw was the only one cleared from their godown.
"This is the last stock. We are from the store and nothing is left there," said the salesperson.
A wholesale trader in Ganjoni area, Ibrahim Hussein, said he has not sold sugar for the last three weeks as the government cracked down on illegal supply.
Mr Hussein said the godowns under probe are the ones that have been supplying them with the commodity.
Investigations by Nation revealed that some suppliers are hoarding sugar leaving consumers to scramble for it.
"I have been forced to buy more sugar so that I can keep some stock at home. We do not know what will happen in the next few weeks. We might be forced not to take tea if we do not plan well," said Maryam Khamis, a resident.
Sugar price prices have also spiked in the last three weeks as the commodity becomes more scarce.
A one-kilogramme packet that used to go for Sh110 is now between Sh140 to Sh150 with a two-kilo pack going for Sh270 up from Sh210.