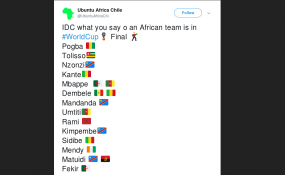 Photo: Ubuntu Africa Chile/Twitter
By Njideka Agbo
France brought back 1998 memories with its win against Belgium yesterday.
Beating the Premier League players dominated team to clinch its spot at the World Cup Finals, their hopes to get the golden cup is once again reignited.
Clearly not a win that was celebrated by France alone, Africans also found a way to celebrate via tweets because of their black mates.
Check out some of the tweets below:
If Eden Hazard was from these countries
Brazil-Hazardinho
Italy-Hazanto
Egypt-El Hazard
Poland-Hazadowiski
Croatia-Hazardic
Netherlands-Eden Van Hazard
China-Lee Hazard
Greece-Hazarpathouspolous
Japan-Hazarfujita
Iceland- Hazardisson
India-Hazard Singh
Nigeria-Hazachukwu#FRABEL pic.twitter.com/tSoB0aFPXQ
-- Naija's Naughtiest Nerd 🇳🇬🇪🇸 (@edsonelisha_16) July 10, 2018
Kylian Mbappe is the most outrageously talented 19-year-old footballer of his generation. It's just sad to see that at such a tender, supposedly innocent age, cynicism and play-acting are already part of his arsenal #FRABEL
-- Grant Shimmin (@shimmo23) July 10, 2018
Is Thierry Henry really happy?
#FRABEL
yes yes yesyes
yesyes yes yes yes
yes yes yes yes yes
yes yesyes yes yes
yes yesys yes yes
yes yes yesyes
-- Deepak Ranjan (@ranjdeep) July 11, 2018
Y'all didn't see Umtiti dance😅😅😅😅😅😅😅😅😅 #FRABEL pic.twitter.com/yQPDvgcYH3
-- ƘELVIN NG'ANG'A🇰🇪🇰🇪🇰🇪 (@Lewanjoksi) July 11, 2018
IDC what you say o an African team is in #WorldCup Final 🕺
Pogba 🇬🇳
Tolisso🇹🇬
Nzonzi🇨🇩
Kante🇲🇱
Mbappe 🇩🇿 🇨🇲
Dembele 🇸🇳 🇲🇱
Mandanda 🇨🇩
Umtiti🇨🇲
Rami 🇲🇦
Kimpembe🇨🇩
Sidibe 🇲🇱
Mendy 🇨🇮
Matuidi 🇨🇩 🇦🇴
Fekir 🇩🇿
Alli 🇳🇬 & Welbeck🇬🇭 soon#FRABEL
-- Ubuntu Africa Chile (@UbuntuAfricaChi) July 10, 2018
#FRABEL Thierry Henry after France defeated Belgium#JeshiYaKaka pic.twitter.com/4op9vEtlfl
-- wasioma Bashir (@wasiomaBashir1) July 11, 2018
#FRABEL
The crowd was waiting to see a
Mbappe vs Hazard &
Pogba vs De Bruyne
But they saw the Lloris and Courtouis version.
The goalkeepers were just phenomenal.
-- SUBHADEEP TOTTENHAM MUKHERJEE (@STottenhamM1212) July 10, 2018