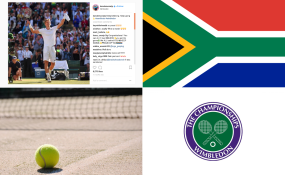 Photo: allafrica.com
The odds are heavily stacked against Kevin Anderson ahead of his Wimbledon quarter-final against defending champion Roger Federer on Wednesday.
The South African will play in his first Wimbledon quarter-final against a player who's won the tournament a record eight times.
Anderson has also never beaten Federer in their four prior meetings on the ATP World Tour.
All those previous meetings have come at Masters 1000 level, with the Swiss winning in straight sets on every occasion.
Federer won the first meeting 6-4, 6-4 at the Paris Masters indoor hard-court event in 2013; he won 7-5, 6-1 at Indian Wells in 2014; 6-3, 7-5 on the clay in Rome in 2015 and 6-1, 6-1 in Cincinnati later that year.
However since then, the 2.03m-tall Anderson has improved markedly and Wednesday's match will be their first meeting on grass.
Anderson can also take heart from the fact that he upset the history books in his round of 16 encounter against Frenchman Gael Monfils.
The South African had never beaten Monfils in their five prior meetings, but managed to win the pair's first encounter in grass.
But Federer will prove a much sterner test.
The 20-time Grand Slam winner is aiming for a 13th Wimbledon semi-final and to extend his record for the most last four appearance at the All England Club in the Open Era, having taken sole ownership of the record from American Jimmy Connors during his 2017 title run.
Federer has won his last 32 sets at Wimbledon and a straight-sets win on Wednesday will see him break his own record of consecutive sets won at the tournament.
The Swiss maestro had won 34 straight sets between the third round in 2005 and the final in 2006.
While Anderson is known for his booming serve, it's Federer's serve that has proved impenetrable at this year's Championships - the Swiss is yet to drop serve and has held in his past 81 service games, dating back to the first set of his semi-final against Czech Tomas Berdych last year.
American great Pete Sampras, who won Wimbledon seven times, holds the record for most consecutive games won on serve at the tournament, winning 118 straight games on serve between the third round in 2000 and the second round in 2001.
After beating Monfils in a tight four-set battle, Anderson said he was tired after playing for three hours and 29 minutes.
He'll also enter Wednesday's match having spent more than four hours longer on court than Federer.
Anderson's four victories to date have taken 10 hours and 11 minutes, while Federer has required only six hours and eight minutes to sail into the quarter-finals.
Leading SA bookmakers BET.co.za have installed Federer as a clear 3/50 favourite, with Anderson on offer at 13/2 .
Given the above-mentioned statistics, it's clear Anderson is a massive underdog against Federer.
But he has nothing to lose and should enter the match swinging freely. If he can impose his big game on the Swiss, an upset is not beyond the realms of possibility...
* The match on Court 1 is scheduled to start at 14:00 SA time.
Sport24