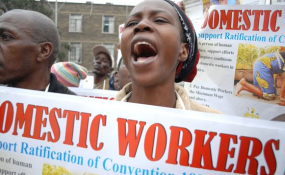 Photo: The Nation Media Group
By Tameru Regasa
Addis Ababa - Ministry of Labor and Social Affairs and its Saudi Arabian counterpart signed agreement to secure the right of both workers and employers.
According to the agreement, the ministries will work towards a mutually acceptable recruitment system for Ethiopian domestic workers for employment in Saudi Arabia, pursuant to the applicable laws, rules and regulations of both countries.
The agreement allows to adopt standard employment contract for domestic workers, the text of which shall be accepted by the competent authorities of the two countries, and be binding among the contracting parties.
This agreement clearly demarcate the roles and responsibilities of the two countries. Accordingly, Saudi Arabia's labor ministry has the responsibility to ensure that the recruitment, hiring and placement of domestic workers under this agreement shall be in accordance with the relevant laws, rules and regulations.
The agreement further obligates the Ministry to facilitate the opening of a bank account by the employer in the name of the domestic worker, and establish a mechanism which will provide a twenty four hour assistance to the domestic workers.
As per the contract, Ministry of Labor and Social Affairs of Ethiopia on its part has an obligation to ensure the recruitment of medically qualified workers that meet all the criteria needed, like ensuring that prospective domestic workers have no criminal record to be fit workers to go the Kingdom of the Saudi Arabia according to job specification requirement.
The agreement forces the Ethiopian Ministry of Labor to orient prospective domestic workers to respect Saudi's laws, morals, ethics and customs while residing and working there.
Senior Communication Expert with FDRE Ministry of Labor and Social Affairs, Besazin Deribe on his part said that skill training will be given for prospective domestic workers on housework at specialized institutes, and will also receive orientation on Saudi's customs and traditions, as well as the terms and conditions of the employment contract.
He further noted that in collaboration with its task force and different stakeholders, the Ministry is taking controlling measures to combat illegal traveling to Saudi Arabia. To this end, the Ministry bringing illegal agencies before the law.