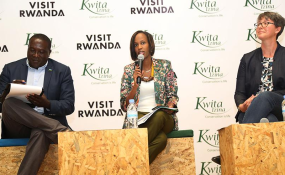 Photo: Sam Ngendahimana/New Times
By Athan Tashobya
A member of the Arsenal first-team is expected to participate in this year's gorilla naming ceremony, locally known as Kwita Izina.
The highly-rated conservation event is held in Kinigi on the slopes of the Volcanoes National Park.
The Arsenal Star will join the long list of global celebrities and personalities who have taken part in naming newly born mountain gorillas.
The ceremony is organized by the Rwanda Development Board (RDB).
The RDB Chief Tourism Officer, Belise Kariza, without revealing names said that a number of superstars have been lined up for the annual conservation and tourism flagship event set to take place on September 7.
Kwita Izina, a uniquely Rwandan event, was introduced in 2005 with the aim of creating awareness of conservation efforts for the endangered mountain gorilla.
23 infant mountain gorillas will be named this year, Kariza said.
The participation of Arsenal is part of the long-term deal the club signed with Rwanda.
Last May, (RDB) and the London-based top-tier soccer team, announced an unprecedented deal that Rwanda would become the official tourism partner of the premier league club.
The three-year partnership also includes players from the club wearing "Visit Rwanda" on the sleeves of their jerseys, starting this football season.
Rwanda is the first ever shirt sleeve partner for Arsenal.
"One of the ways that we are going to leverage Visit Rwanda Campaign in this year's Kwita Izina is to bring a first-team Arsenal Player. Which one? We will communicate to you overtime.
"That same player will visit (different tourism destinations in) Rwanda and we will be making it public when that time comes," Kariza said.
The theme of this year's event is 'Conservation is Life'.
Some 258 mountain gorillas have been named in the 13 ceremonies since the first Kwita Izina in 2005.
Other global icons and celebrities who have participated in the gorilla naming ceremony include American Billionaire philanthropist Howard Buffet, movie stars Isaiah Washington, Don Cheadle, Patience Ozuokor, Ramsey Nouah, born Ramsey Tokunbo Nouah Jr, top model and conservation activist Veronica Varekova and US-based Rwandan Singer The Ben among others.
Actor Sean Penn also attended last year's Kwita Izina upon the invitation of Hon. Laurent Lamothe, the former Prime Minister in the Republic of Haiti (who was among the namers in 2017.)
Last May, popular American TV talk show host Ellen DeGeneres visited Rwanda and launched the building of a Gorilla research centre toprotect the endangered mountain gorillas.
The Ellen DeGeneres Campus of the Dian Fossey Gorilla Fund, was a gift given to the TV host by her long-term partner, Portia De Rossi.
Since the first Kwita Izina the gorilla population has grown by 26.6 per cent.
Mountain gorillas contribute up to 90 percent of government revenues from national parks.
In 2016 alone, Rwanda earned $404 million from tourism. The target this year is $444 million.