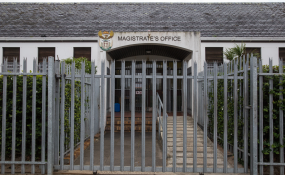 Photo: Ashraf Hendricks/GroundUp
Residents of Zwelihle, Hermanus, plan to shut down the area for a third day, community organisation Zwelihle Renewal has warned.
"The residents have decided that there is going to be a complete shutdown," spokesperson Theron Mqu said.
"All entrances and exits will be blocked and no one will be going to work today."
The warning follows a meeting between police and residents on Wednesday, which erupted into violence.
Rocks were thrown while police attempted to address the crowd and police retaliated by firing rubber bullets and teargas at the crowd that had gathered in the main road.
They made several arrests.
Possible solutions
Community leaders stayed clear of the fray and were seen discussing possible solutions to the violence with the police.
Mqu then called a meeting with all community leaders at a local taxi rank to decide the way forward.
The situation remained calm during their absence.
A cloud of smoke could be seen hovering over the community for the remainder of the day, with Nyalas and armed police officers keeping a watch over residents from a distance.
Mqu said residents were no longer protesting about land. Instead, their intention was to demand that Zwelihle Renewal's Gcobani Ndzongana be released from police custody.
He said the unrest flared up on Tuesday night after a memorandum was handed over to the police to demand with the withdrawal of charges against Ndzongana.
It was unclear what charges were laid against Ndzongana, but Mqu suspected that they could include incitement of violence and destruction of property.
Mqu told News24 that Ndzongana had put up a Facebook post that could have been interpreted as a call to action after a fence was erected in Sculphoek without consultation with the community.
Ndzongana's wife was spotted weeping outside the Hermanus Magistrate's Court following his arrest on Wednesday.
The Hermanus Community Day Centre was closed for the day due to the unrest, but the provincial health department said that it would "hopefully" reopen the centre on Thursday.
Patients were referred to their nearest clinic for medical treatment and to Hermanus Hospital for emergencies.
Source: News24