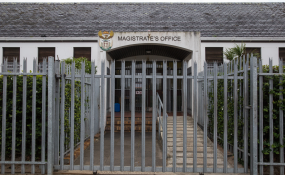 Photo: Ashraf Hendricks/GroundUp
Thousands of residents, armed with rocks and sheets of corrugated iron, took to the streets of Zwelihle, Hermanus on Thursday.
As police fired rubber bullets to get them to disperse, they used the corrugated iron as shields, and responded by throwing rocks.
Rocks, tyres and shopping carts were also used to blockade all roads, including the R43 leading into the community.
Schulphoek Road near the Whale Coast Mall resembled a warzone as residents boldly fought back against the police.
This is the third day of unrest in the area.
It was a similar situation on Wednesday as rocks were thrown while police attempted to address the crowd. Officers retaliated by firing rubber bullets and teargas at the crowd that had gathered in the main road. Several arrests were made.
Spokesperson for community organisation Zwelihle Renewal, Theron Mqu, told News24 that residents were no longer protesting about land. Instead, their intention was to demand that Zwelihle Renewal's Gcobani Ndzongana be released from police custody.
Mqu said the unrest flared up on Tuesday night after a memorandum was handed over to the police to demand the withdrawal of charges against Ndzongana.
It was unclear what charges were laid against Ndzongana, but Mqu suspected that they could include incitement of violence and destruction of property.
Mqu told News24 that Ndzongana had put up a Facebook post that could have been interpreted as a call to action after a fence was erected in Schulphoek without consultation with the community.
Source: News24