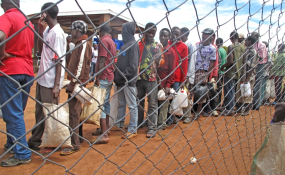 Photo: Kristy Siegfried/IRIN
By Lugeretzia Kooper
ZAMBEZI regional governor Lawrence Sampofu has announced that about 44 Namibian refugees from Botswana's Dukwe camp are expected to return to Namibia today.
He said this during an interview with The Namibian on Wednesday, weeks after the deadline which the Botswana government gave the hundreds of Namibian refugees at Dukwe refugee camp to voluntary return to their country.
"In 2015 the Botswana government declared a secession clause meaning that these people are no longer considered as refugees but as illegal immigrants. This year the Botswana government gave them a deadline 11 May to 11 July to register to be voluntarily repatriated to Namibia. However, out of the hundreds that are left, only a few are coming back. Two weeks ago we recuieved 20 refugees and tomorrow we are expecting 44," he noted.
Sampofu further said that there were still close to 900 refugees left at Dukwe refugee camp.