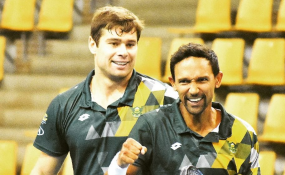 Photo: Raven Klaasen/Instagram
Reaching a final at Wimbledon is certainly the dream for any tennis player and South Africa's Raven Klaasen is no different in that regard.
Together with his doubles partner, Michael Venus of New Zealand, Klaasen will now live that dream thanks to their 7-6 (8/6), 3-6, 6-3, 6-4 win over Denmark's Frederik Nielsen and Britain's Joe Salisbury in their semi-final clash on Thursday.
"It's incredible to have reached the final," said Klaasen.
"You come to Wimbledon every year and hope to do well and prepare yourself to get to this stage in the tournament and then to do a step better than my last semi-final (2016) showing here is fabulous. I don't want to get to excited, I need to regroup and recover and come out on Saturday with Michael and give ourselves the best chance of the title."
Klaasen said that both himself, Kevin Anderson and wheelchair tennis star KG Montjane were thankful for all the support and messages they have received from South Africa.
"When you get a congratulations from your President then you know your efforts are recognised. We also got well wishes from the Deputy Minister of Sport and Recreation Gert Oosthuizen and Minister of Sport and Recreation Tokozile Xasa which means so much. It really motivates us to see how many people back home are motivated by our success," he said.
The 13th seeds Klaasen and Venus will now oppose Americans Mike Bryan and Jack Sock, the 7th seeds, in Saturday's final. The Americans defeated Dominic Inglot (Britain) and Franko Škugor (Croatia) 6-3, 6-1, 6-7 (11/13), 6-7 (4/7), 6-4.
Source: Sport24