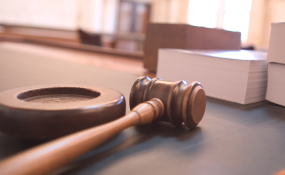 Photo: Joe Gratz/Flickr
By Anthony Wesaka
Kampala — The much awaited judgment in the consolidated presidential age limit petitions has finally been set for July 26 at Mbale High Court.
According to the judgment notice released by the registrar of the Constitutional Court, Ms Esta Nambayo, on Friday, the reading of the judgment will start at 9:30 am.
"Take notice that judgment in the consolidated petitions heard in Mbale is now ready for delivery. It will be delivered in the 26th day of July, 2018 at 9:30am at Mbale High Court," the judgment notice reads in part
The judgment notice has been copied to the lawyers representing the six petitioners apart from Mr Male Mabirizi, who is representing himself.
The law firms invited for the judgment include; Rwakafuuzi & Co Advocates, Lukwago & Co. Advocates, Byamukama, Kaboneka & Co. Advocates, Abaine- Buregyeya & Co Advocates, Uganda Law Society and the chambers of the Attorney General
The Court has warned that should any party fail to show up, they will go ahead and read out the judgment in their absence.
"If no appearance is made on your behalf by yourself or someone by law authorised to act for you, the judgment will be delivered in your absence," the notice reads.
The hearing of the case was concluded on April 19 and the judgment was expected before June 19 but the court failed to beat the two-months deadline, an omission that has caused anxiety and suspicion in the public.
The Uganda Code of Judicial Conduct, gives court a two-month period to deliver a judgment that has been put on notice from the date of concluding the hearing, which 60 days lapsed on June 19.
The justices that heard the high profile petition included; Deputy Chief Justice, Alfonse Owiny-Dollo who led the panel, Remmy Kasule, Elizabeth Musoke, Cheborion Barishaki and Kenneth Kakuru.
Recently, there had been calls from various players, calling upon the Constitutional Court to deliver the judgment.
The repetitive calls to have the judgment delivered, prompted Chief Justice Bart Katureebe, to come out and explain that this particular case is complex and needed more time to analyse it and that each judge is expected to write their own decisions, hence the delay.
The five petitioners are among others, challenging the entire process that led to the amendment of the Constitution that saw the removal of the presidential upper cap age limit of 75 years and the lower age cap limit of 35 years.
They say that the entire amendment process was marred by violence, intimidation, abuse of fundamental human rights, general mayhem, security officers evading Parliament and assaulting MPs.
The old Constitution had blocked President Yoweri Museveni from vying for the country's top seat since he would be above the age of 75 years at the next general elections.
Further, the petitioners are challenging the extension of the office term of the President, Parliament and local government council from five to seven years.