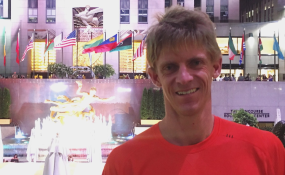 Photo: Kevin Anderson/Twitter
analysis
By Antoinette Muller
Kevin Anderson might not have won the Wimbledon title, but his performances over the last 18 months have done a great job at raising the profile of the sport.
Before Kevin Anderson made the US Open final in 2017, most passive sports fans in South Africa probably hadn't even heard of him. He'd won just a handful of ATP World Tour titles, lived on the other side of the world and hadn't represented his country in the Davis Cup for years.
But that game slowly changed things. Anyone who hadn't known of his existence has now.
This year, after dumping the great Roger Federer out of Wimbledon before clinging on for dear life in a semi-final marathon against John Isner, Anderson's profile in South Africa arrived at its peak.
Few would have really believed that Anderson would overcome Novak Djokovic in the final, but he tried. The Serbian won relatively easily: 6-2, 6-2 and 7-6 (7/3).
At the end of it all, the knackered South African...