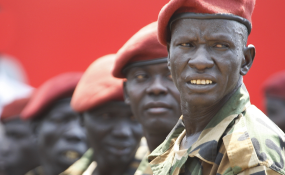 Photo: Steve Evans
By Joseph Oduha
The UN Security Council (UNSC) arms embargo will not resolves the crisis in South Sudan, official said.
The Juba Foreign Affairs ministry spokesman, Mr Mawien Makol, said on phone that the arms ban would instead jeopardise the government's peace efforts.
"Well, the government is not happy with these sanctions. We are seeing them as not being the solution to instability," Mr Makol said.
He instead called for cooperation between the international community and Juba so as to achieve lasting peace
UNSC on Friday imposed an arms ban and other targeted sanctions on South Sudan, on grounds of persistent political stalemate in the young nation.
Stop violence
However, a civil rights activist, Mr Edmund Yakani, underlined that the embargo was an appropriate and timely reminder to the protagonists to stop violence.
"This offers yet another opportunity for various South Sudan conflicting actors to change attitude to resolving their political differences in a non-violent manner," he said.
Mr Yakani added that the only way to get out of the international community's embargo was for the South Sudan warring parties to seal a peace deal urgently.
The UN on July 10 released a report alleging mass atrocities committed by government troops in former Unity State in April and May.
Remain shaky
The report said some 232 civilians were brutally killed and women and girls subjected to mass rape.
The UN says the atrocities amount to war crimes and has demanded that the military commanders who led the operations face justice.
The ongoing peace negotiations remain shaky as parties to the talks disagree over power sharing proposals presented by Kampala and Khartoum in Sudan.
The largest rebel group led by Dr Riek Machar maintains the need for power sharing that could keep all the arms of government in check.
The warring sides are expected in Nairobi next week for final touches on their peace agreement.