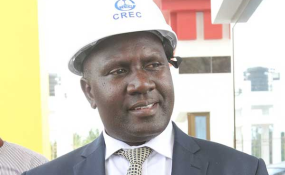 Photo: The Citizen
PRESIDENT John Magufuli has revoked the appointment of the National Social Security Fund (NSSF) Director General, Prof Godius Kahyarara effective yesterday.
A statement availed to the media by the Directorate and Presidential Communications said that the president has appointed Mr William Erio who was the Director General of PPF Pension Fund to replace Prof Kahyarara.
The statement said that Prof Kahyarara will be assigned other duties.
He took over the position on March 2016 after the former DG; Dr Ramadhani Dau was appointed an ambassador. Mr Erio has been the Chairman of Zep Re Pta Reinsurance Company since May 17, 2013, and has been its Non-Executive Director since 2006.
He also holds a Bachelor of Laws degree from the University of Dar es Salaam and a Master of Law degree from the University of Hull.
Mr Erio holds a directorship positions at the Tanzania National Reinsurance Corporation Limited, Azania Bank, IHPL Limited, Tanzania Tea Packers Limited (TATEPA) and PPL Limited.