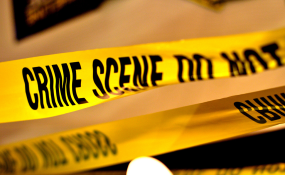 Photo: [paumelia]/Flickr
By Evelyn Usman
Two guards attached to Topline Security Company, contracted by the Nigerian National Petroleum Corporation, NNPC, to protect its pipelines' right of way in Lagos, have been murdered and buried in shallow graves in Ilashe, near ATLAS COVE, Lagos.
Vanguard gathered that the deceased-- Bello Williams, popularly called Awilo, and Oluwasegun Olusanya-- were hacked to death on their way to get water from a boat that came to supply them sachet water, last Wednesday.
Two other guards, Abayomi Ojugbele and Benedict Orume, who sustained bullet wounds, according to the security firm, were whisked away by Naval personnel.
Briefing journalists, Topline Coordinator, Chief Joshua Aminu, identified of the naval personnel that led the team to the island(name withheld).
According to him, "on the day of the incident, the company that usually supplied my men sachet water called to inform that they were coming with some bags of water.
"I sent some of my boys to go and bring the bags to their tents. When our patrol team went to carry the bags of water, two speed boats of the Nigerian Navy stormed the area and started shooting indiscriminately.
"My men ran for safety, from where I was contacted on phone about the situation. Immediately, I called the Officer-in-charge of that area, Aminu Goni, to inform him of the incident, but he did not pick my calls.
"I also, called authorities of NNPC to inform them of what had happened. Goni (IOC) later called me to say there was a misunderstanding between his men and my men.
"He told me that the situation was under control that two of my men that were injured were being taken to the hospital. He said it was a mistake on the part of the Navy.
"When I contacted him again, he said my injured men were responding to treatment. I requested to come see them, but he said there was no need for that, as they would be discharged the next day (Thursday).
"When I visited the scene, I discovered that Naval personnel shattered the windscreen of our patrol van with bullets and also deflated its four tyres.
"One of the bullets pierced through the driver's seat. From all indications, it was not a mistake as claimed by Goni. When I called him to relate my findings, Goni said he would come and see me to settle the matter."
Corpses found
Aminu further stated that "the next morning, I discovered that one of our tents had its door opened in an unusual manner.
"I asked some of my men to check who was in the tent. In the course of the search, they found a hole where Williams was buried. I insisted they searched further and they found a bag and clothes belonging another of my men, Olusanya, whose dead body was left in a corner of the tent.
"I called Goni to inform him that his men had killed two of my men. But he denied, saying my men were still in the hospital.
"He promised to come and see the dead bodies, but never did. I then contacted the Flag Officer Commanding, FOC Western Naval Command, Rear Admiral Sylvanus Abba, to inform him that his men threatened to come back, that some naval personnel visited.
"I called the attention of the Police to the murder. Some policemen from Area 'L' visited the scene and brought out the dead bodies. On closer observation, we saw that they were matcheted to death.
"Goni has said the FOC said we shouldn't come to see our men in the hospital.
"Also note that earlier this year, the Navy abducted four of our men: Aree Ibrahim, Olayinka David, Idowu Oni and Abayomi Williams."
They pipeline vandals--Navy
However, Rear Admiral Aba exonerated his men from the murders, saying "the persons killed were killed with machetes. What will the Navy be doing with machetes?
"The fact is that these so-called guards engage in criminal activities. They claim they have not been paid for 15 months and they are still working; because they are siphoning fuel.
"They are even raping women in the villages and committing all forms of atrocities in that community. Go and investigate yourself.
"Two of their men are with us at the Navy Hospital because we want to use them to give evidence.
"We had a meeting with the management of Topline in Abuja and it was resolved that no arms should be carried by their operatives again.
"If they want to carry arms, we are insisting that such should be licensed by the Police."