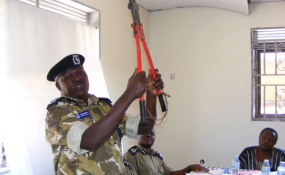 Photo: Andrew Bagala/Daily Monitor
By Andrew Bagala
Kampala — The government has sent a team of medical experts led by the Director of Police Health Services to carry out an autopsy on the body of the Commissioner of Police Okello Makmot, who died at Dubai airport transit lounge in United Arab Emirates last week.
Mr Jacob Siminyu, the spokesman of the Internal Affairs Ministry, said Dr Moses Byaruhanga, the top police pathologist, in company of the deceased's relatives and other government officials left for Dubai Sunday afternoon.
"Dr Byaruhanga led the team. As I talk, they are at the airport in the process of travelling to Dubai," Mr Siminyu said on Sunday.
Commissioner Makmot was the coordinator of the National Focal Point on Small Arms and Light Weapons at the Ministry of Internal Affairs at the time of his death.
He died suddenly while travelling from United States via Dubai to Uganda.
Dr Byaruhanga carried out autopsy on the body of the former minister of Internal Affairs, Gen Aronda Nyakairima, who died of a heart disease in Dubai, UAE, as he was travelling from South Korea in September 2015.
He also carried out autopsy on Cerinah Nebanda, Butaleja District Woman Member of Parliament, who died of suspected drugs in 2012.
Last week, the State Minister for Foreign Affairs, Mr Okello Oryem, said Commissioner Makmot's death was caused by a blood clot.
Makmot is the third government official to die while travelling back to Uganda.
Gen Aronda died of a heart disease in Dubai, UAE, as he was travelling from South Korea in September 2015.
Ambassador Najuna Njuneki collapsed on the plane as he was travelling from Sweden and died in South Africa in September 2016.
Commissioner Makmot is known for leading operations against cattle rustling and disarmament process in Karamoja and Teso sub-regions, where he was the commander of the Anti-Stock Theft Unit in 2007.
In 2011, Makmot resigned from police for politics, but he later returned and was recruited on contract.
During his stay in the police, he worked in the directorate of Logistics and Engineering and directorate of Operations.
In 2006, he was the regional police commander for West Nile region.
In 2004, he was the police commander in Luweero District and later Katwe Police Station.