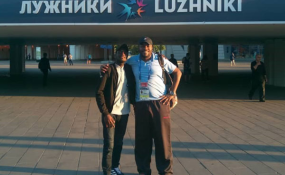 Photo: Daily Monitor
By Mark Namanya
Moscow — The curtains fell on the Fifa World Cup in Russia yesterday after the final match of the tournament, between France and Croatia, was played at the Luzhniki Stadium in Moscow to determine the best team in the world.
There was joy for the winners and tears for the losers but for the 15,000 volunteers who have made the biggest sporting competition on earth a success, it was an emotional ending to what has been a surreal 50 days in the largest nation in the world.
Among them was Mr Hassan Ssewajje, a Ugandan civil engineering graduate trainee with Uganda National Roads Authority (UNRA), who has been in Moscow for close to two months doing his best to ensure the tournament is a success.
Mr Ssewajje, 25, applied online two years ago for a volunteering role at the Russia 2018 Fifa World Cup.
Although there were many other applicants from Uganda, he was the only one who was picked to the Local Organising Committee.
"I was throwing a stone in the bush when I applied," he recalled as he told Daily Monitor his journey from Kampala to Moscow.
"I liked the idea (of volunteering) but I did not believe I would make it because it was a rigorous application process."
The former Express, now Vipers-turned supporter, says the beginning in Moscow was a problem.
"The first two days were hell; the language was a challenge and settling in was not easy. But once I got through those two days, everything else became normal," he says.
Mr Ssewajje has been stationed at Luhzniki Stadium in Moscow all throughout the tournament and has enjoyed every moment of his stay in Russia.
"It has really been great. I have made new friends and expanded my network internationally. In fact, I also had an engineering opportunity here but my interest is to return home and work there for now," he says.
Although Mr Ssewajje is not paid for the work, he does not mind.
"I have seen that we have issues with sustainability designs of our stadiums, we do not care for the disabled at matches and likewise we do not sort waste in the best way possible," he says.
Mr Ssewajje says the T-shirts they have worn as volunteers have been manufactured from bottles collected from waste bins.
Memorable
His experience has allowed him to meet soccer greats like Diego Maradona but after serving as the Venue Eco Manager for Luzhniki Stadium, he can look back at the 2018 Fifa World Cup with nostalgic glee.