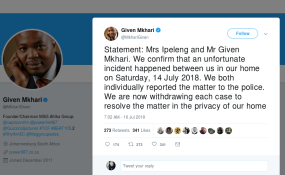 Photo: Given Mkhari/Twitter
Radio mogul Given Mkhari and his wife Ipeleng, who were both arrested after they opened charges of assault against each other - will not be appearing in court on Monday.
Mkhari, who is the chairperson of MSG Afrika, and his wife, who is the CEO and founder of Motseng Investment Holdings and the president-elect of the SA Properties Association, allegedly had a fight in their home on Saturday night.
"He and his wife have withdrawn assault charges against each other. Mkhari said he had gone to press charges at the Randburg Police Station, followed by his spouse. The family have since taken the decision to resolve the matter at home," said a statement on PowerFM's Twitter handle.
The two also shared a joint statement on their respective Twitter accounts.
"We confirm that an unfortunate incident happened between us in our home on Saturday, 14 July 2018. We both individually reported the matter to the police. We are now withdrawing each case to resolve the matter in the privacy of our home," it read.
Earlier police spokesperson Captain Kay Makhubela had told News24 that after the fight the husband opened a case of assault against his wife, who also opened a case of assault against him.
They were both arrested at the time.
Source: News24