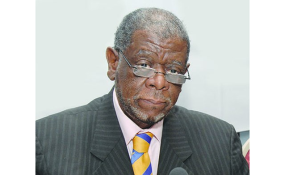 Photo: The Namibian
By Matthew Gowaseb
Another name is added to the roll-call of those whom Namibia and the world will not willingly let die - Theo-Ben Dururob Gurirab has died.
A venerable statesman, family man, world citizen, and above all a storyteller of format, he quietly exchanged the now with the eternal. A place he often reminisced about.
The hereafter, he promised his late comrade Hidipo Hamutenya, is where he would join him one day. At Hamutenya's funeral, Theo-Ben dropped a note and a pen into Hamutenya's grave, concealed in the soil. Among other things, Theo-Ben wrote in the note that they should keep in touch until they meet again 'on the other side'. And indeed, what a great reunion.
On midday, on a cold and cloudy Saturday, the passing of this immensely gifted soul signals the end of the era of liberation diplomacy. Not only that, but also the end of the great storytelling tradition. Stories willingly and eagerly shared until the sunset days.
The path to Theo-Ben's grave is strewn with great achievements, but also paved with immense humility and warmth. Positional power meant nothing to him - his humanity towering above everything else. I had the privilege to tell part of Theo-Ben's story in the book 'Theo--Ben Gurirab: World Citizen." His was no ordinary life.
Theo-Ben was immensely dedicated to his craft, as witnessed by his tremendous achievements. Whether it was the liberation struggle, institutionalising and developing the Ministry of Foreign Affairs, being the Prime Minister, being the Speaker of the National Assembly, or being the president of the General Assembly, president of the Security Council, or president of the IPU - part of it was how he saw himself, and that was who he was. He was the sum total of his life.
Theo-Ben was very principled, and he was honest about the things that he believed in. He had proven himself over the years that he would never put himself in a position where anyone would question his values, honesty or integrity.
The struggle for freedom and independence did not define and determine Theo-Ben's character.
When he joined the struggle, it was the principle of justice that made him do that; he was his own man. Most people die not knowing what they were supposed to be, but Theo-Ben had it right. And that speaks to his success.
Regarding his contribution to the independence of Namibia and global challenges; concerning the effort that he has put in; and in terms of the sacrifices that he has made, Theo-Ben is, without doubt a venerable statesman.
Theo-Ben was a man of letters, with immense oratory skills. His writing is simply unmatched, and he had an unquenchable thirst for reading. He had great charm around him, and an instinctive style about everything he did. Indeed, everything about Theo-Ben had style.
Great leaders give inspiration and lead. And Theo-Ben was one such. As was the case with the greatest of all heroes, Jesus of Nazareth, genuinely great leaders may prefer a wreath of thorns to a golden crown. They live by the biblical principle that - unto whomsoever much is given, of him shall be much required.
Therefore, a hero is foremost a servant - not in word, but in deed. One who is an elected leader wins the right to serve others. Theo-Ben understood that. True heroes understand that the art of perfect living is the art of perfect giving, for they search for the virtue in others and themselves for vices.
Through his daily exchanges and interactions with ordinary men and women, Theo-Ben personified and epitomised true leadership.
As Theo-Ben's light goes out, I think of a great man, an outstanding citizen of Namibia and the world, a dear friend. At midday, with a cloudy sky and a light whisper of mid-winter wind, he slept, and the nation wept.
- Matthew Gowaseb is the author of the book 'Theo Ben Gurirab: World Citizen', and worked with Gurirab in various capacities.