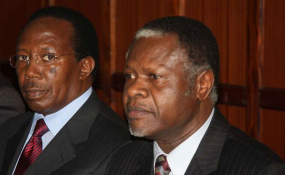 Photo: Daily Nation
By Sam Kiplagat
Senior Kenya Power managers will spend a third night in police custody awaiting ruling on their request to be released on bail.
Chief Magistrate Douglas Ogoti directed the 17 led by former managing director Ben Chumo, and his successor Ken Tarus be remanded at the Gigiri Police Station until Tuesday.
Despite giving a spirited fight to be released on bond, the suspects were forced to spend another night in police custody as the magistrate adjourned the case following lengthy arguments made by their lawyers.
About seven lawyers had made arguments seeking their release on bail. The application was promoted by an affidavit by the investigating Walter Okello, who opposed their release on bond.
The prosecution led by Senior Assistant Director of Public Prosecutions Alexander Muteti and Jacinta Nyamosi said they will oppose their release on bail because the accused persons were a flight risk and are likely to interfere with witnesses.
Besides Dr Chumo and Dr Ken Tarus, other suspects were Ms Beatrice Meso, Mr Peter Mungai, Mr Joshua Mutua, Mr Abubakar Swaleh, and Mr Samuel Ndirangu.
Others were Mr Stanley Mutwiri, Mr Benson Muriithi, Mr Peter Mwicigi and Mr John Ombui.
In the first case, the accused persons denied a total of seven counts including conspiracy to commit an economic crime, abuse of office, failure to comply with procurement laws and conspiracy to defeat justice.
The court heard that they led to losses amounting to Sh408 million, at KPLC for procuring substandard transformers. The charges stated that Dr Chumo, Ms Meso, Dr Tarus, Mr Mungai and Mr Abubakar Swaleh and others conspired to commit an economic crime on diverse dates between August 3, 2013 and June 12, 2018 when they procured transformers worth approximately Sh408,533,221 to a company known as M/S Muwa Trading. They further denied abuse of office and failure to comply with procurement laws.
Also in court was Mr James Njenga, a director of Muwa. His wife Ms Grace Wanjira and son John Anthony Mungai were said to be out of the country, for medication. He denied charges of fraudulent acquisition of public funds.
The court further the KPLC senior managers aided Muwa Trading company to fraudulently acquire Sh202 million, for the supply of substandard transformers.
The eleven KPLC senior managers are alleged to have tried to defeat the cause of justice when they sanctioned a court settlement of case filed by Muwa before the High Court. It is alleged that the management team tried to settle the case out of court leading to the loss of more than Sh200 million.
Senior counsel Tom Ojienda urged the court to release them on reasonable bail terms saying they were still innocent and the constitution guarantees them the right.
In the second case, Dr Tarus and eight other senior managers of KPLC denied charges of fraudulently granting transport tenders to unqualified companies occasioning the loss of more than Sh159 million to the company.
Others were Mr Harun Karisa, engineer Daniel Tare, Mr Noah Ogano Omondi, Daniel Ochieng Muga, John Mwaura Njehia, Mr James Muriuki, Mr Bernard Githui Muturi, Ms Everlyne Pauline Omondi. The nine were among members of the tender committee. Mr Muga and Mr Muturi were not in court.
It is alleged that on diverse dates between April 12, 2017 and June 12, 2018, they failed to comply with procedures and guidelines on procurement and led to led fraudulent payment of Sh159 million to companies that were prequalified un-procedurally for labour and transport services.
"Bail is a constitutional right and the primary reason is to ensure they attend court. They are prepared to abide by all the conditions placed by the court," Prof Ojienda said. He added that the terms should not be prohibitive but reasonable.
He added that the High Court has set a benchmark on the grant of bail and that it is a constitutional right. He added that there is no evidence showing that any of the accused persons was a flight risk or is likely to interfere with witnesses.
Mr Asa Nyakundi told the court that they will make an undertaking that the suspects will not interfere with witnesses and ensure that they attend court whenever required.