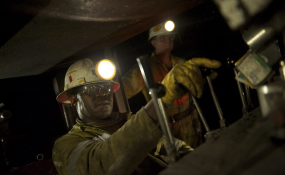 Photo: Anglo Thermal Coal
The National Union of Metalworkers of South Africa (Numsa) wants mine bosses prosecuted and held accountable for every life lost underground.
National spokesperson Phakamile Hlubi-Majola said mine safety remained a huge problem in the country.
"One death underground is far too many and we have seen shockingly high levels of fatalities in the sector in recent years," Hlubi-Majola said.
Hlubi-Majola added that the union also wanted the Mine Health and Safety Act to be amended to allow the prosecution of mine bosses.
"They must be held personally liable for lives lost underground. Perhaps if this is done, we will begin to see an end to fatalities underground. "The only permanent solution to this crisis is for mines to be nationalised. These are strategic assets which should be placed under the democratic ownership of the working class," Hlubi-Majola said.
Police investigation
In the latest spate of deaths of mineworker deaths, six workers died after a fire broke out at the Palabora Mining Company mine in eastern Limpopo over the weekend.
It was believed that the fire broke out in the early hours of Sunday morning.
The workers have since been identified as Shaun Mashigo, 26, Peter Selowa, 32, Vula Eckson Mayindi, 60, Kgotso Peter Sekgobela, 29, Lebogang Elliot Maake, 37 and the youngest, Russel Ricardo Warne, 24.
Police spokesperson Lieutenant Colonel Moatshe Ngoepe said they were still investigating the incident.
Mineral Resources Minister Gwede Mantashe visited the mine on Tuesday.
Palabora Mining Company spokesperson Lydia Radebe told News24 that their copper mine remained close and they were waiting for the preliminary investigation report.
The report, which has to be issued within 30 days after the incident, would seek external expertise to determine the cause of the fire.
At the time, 226 employees were on shift. Six people were trapped underground, while 84 people were seen by a medical doctor. One person was sent to a hospital and others were treated for minor injuries and psychological impact.
Radebe said the tragedy was traumatic for mine bosses and workers alike.
"For us, copper clouded with blood is worthless. When copper gets to the industry, it carries the kind of pride that we want to [be] perceived with," she said.
Common goal
While people speculated and pointed fingers, she said all parties should be working together for the common goal of making the industry safer.
According to the mining company, the tragedy was the first in which they had lost more than one life at a time since they opened in 1956.
"It is the first in the life of Palabora Mining Company and if we could reverse the situation, we would. We send our condolences to the families. We always strive to ensure that our workers come to work and go home in a safe manner," she said.
"We are of the view that where people are negligent, they should be held accountable but in circumstances where the inevitable happens, we want to engage more to make sure the investigations get to the core of the cause so that we are able to prevent repeats in the future."
The company said it supported unions in enforcing the Mine Health and Safety Act provision that stipulated that workers should move away from an unsafe environment.
Radebe also addressed claims that their proto team did not assist.
"Our proto team has been asked to assist in other mines in Limpopo where there was a disaster... We have a very capable proto team."
She explained that in terms of a safety process, only one team member at a time was allowed underground, with oxygen and ice jackets, for 15 minutes at a time.
"It's a numbers issue so we called on other proto teams. Underground there are quite a lot of complexities, like carbon monoxide and temperatures are high," she said.
"We worked one-and-a-half days tirelessly trying to rescue colleagues who were confined underground and even called for more support because as each and every minute passed, we were hoping to find them alive."
Meanwhile, the death toll at Sibanye-Stillwater's operations this year alone stands at more than 20 - close to half of the fatalities in the entire mining industry.
Asked for a response to the calls for prosecution, Sibanye-Stillwater's senior vice-president James Wellsted said they had no comment.
News24