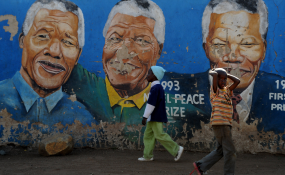 Photo: Werner Beukes/Sapa
By Mako Muzenda
It is 100 years after the birth of Nelson Mandela, and his iconic image is everywhere. Is Mandela the Symbol in danger of becoming Mandela the Brand?
One-hundred years after the birth of Nelson Mandela, South Africa's first democratically elected president, his face and his name are everywhere. To celebrate the centenary of his birth, the South African Reserve Bank (SARB) has unveiled a new set of banknotes bearing the now iconic photo of a young Mandela in traditional Xhosa attire, taken in 1962.
Mandela centenary T-shirts are on mannequins in Woolworths and Edgars retail stores. And then came the CEO SleepOut, proudly announcing that in the spirit of #Madiba100, they were auctioning a night in his cell on Robben Island. The opening bid? US$250 000. The backlash was immediate, and the organisation cancelled the event. However, it is a perfect example of the commercialisation of Mandela's name and face. Mandela the struggle icon is in danger of becoming Mandela the brand.
Nelson Mandela's face, voice and clan name, Madiba, have been a visible part of South Africa since his imprisonment in 1962. Publication and distribution of his likeness were forbidden under apartheid. Mandela's very image became a symbol of resistance and the subversion of apartheid.
His name became a rallying cry for freedom fighters and allies the world over. He was not just a new trend to follow and imitate: sharing, publishing and talking about him was a direct confrontation to the culture of fear and silence that the National Party government enforced. And when, in 1990, he walked out of Victor Verster Prison, arm in arm with struggle icon and then wife Winnie Madikizela-Mandela, the symbol became a legend. His image changed from a representation of resistance and disruption to one of hope, freedom and a new South Africa.
Change - and staying the same
Fast forward to 2018. Much has changed in South Africa since 1994, but much has stayed the same. The many realities that poor black South Africans endured during apartheid - poor education, lack of basic amenities, income inequality and institutional racism - are still a reality today. The African National Congress, in power for 24 years, has promised time and time again to address these problems. FeesMustFall and calls for transformation have reverberated through South African society, and calls to be more critical of Mandela's legacy have gotten stronger. Throughout this mix of change and stagnation, Mandela's name and image remain staples.
File picture: Cuban President Fidel Castro (R) expresses his joy in meeting former South African president Nelson Mandela (L) at Mandela's office in Johannesburg on Sunday 02 September 2001. Castro who took part in the UN World Racism conference in Durban used the opportunity to visit Mandela, whose health is effected by cancer. Phone: ANP/EPA Yoav Lemmer.
In 2011, the clothing line 46664 was launched, described as a "social awareness brand". Although the brand does not bear his image or use his name directly, there is still a connection to Mandela's name and legacy. Pricing for the brand on a local online shopping site starts at R249 for a men's T-shirt. In 2012, the SARB launched a new series of banknotes bearing his image, proclaiming that, like Mandela, the notes would "truly be one of a kind".
Then there is Mandela Tea, created by the Cape Tea Co. You can buy a carton with 12 tins of different flavours for the price of US$100.68. The price of a Mandela poster can go from R219 all the way up to R1 080. And now, in July 2018, the SARB has launched a second series of Mandela notes. Coined "Randelas", the new notes and coins are presented as a continuation of Mandela's work. "Pass on our values", the ATM screen says when advertising the new money.
It is deeply uncomfortable to see the images and words of a political figure being used for profit. Although it is important to honour and celebrate an important political legacy, there is a way of doing this that does not look and feel like capitalising on a household name. Furthermore, it is bizarre that many of the companies and organisations that cash in on Madiba magic use charity as justification.
Some rightly do use the profits from sales to give back and support organisations that Mandela himself founded, and the Mandela Foundation - responsible for safeguarding the use of Mandela's name and likeness - has publicly spoken against the commercialisation of Mandela's name and image. But there are others that seem to slap his name on an initiative and automatically think that that is enough. It is not enough to put his image or invoke his legacy on a product, then donate a small percentage of the profit to a charity - not in a country that is still dealing with a deep socioeconomic and racial divide.
What is even more unsettling is how the meaning of Mandela's legacy and message is in danger of being sanitised. The man who burnt his pass and was willing to die for freedom is marketed as a gentle grandfather who never got angry or stood firmly against racism. It has happened before -- Che Guevara comes to mind. A radical activist and thinker, Guevara's image is now more synonymous with grungy T-shirts than a man (with flaws) who was a revolutionary intent on shaking up the system. Mandela's image should be a symbol of disruption and resistance, not a fashion accessory.
Using his name should be a radical counter to an oppressive and silencing system, not a way to look charitable without working on real, systemic change. And it is even more frustrating when the use of his image and legacy often comes at the expense of other, equally important struggle heroes. People like Albertina Sisulu (whose centenary falls in October of this year), Chris Hani, Robert Sobukwe, Winnie Madikizela-Mandela - just some of the names that the commercialisation of Mandela has reduced to footnotes.
Remember the revolutionary
Brand Mandela is in danger of commercialising, deifying and sanitising an important story and an ordinary human being who did some extraordinary things. Mandela was not just a kind, wise old man. He was also a young revolutionary who was fiercely proud of his culture and his people. Mandela was not the only face of the anti-apartheid movement.
He was one of thousands of people who fought, sacrificed and struggled for freedom. And, most importantly, Mandela should not become just another face on a cool T-shirt or a means to avoid uncomfortable discussions around the traumas of apartheid. He should be a man whose legacy and history must be honoured, analysed and critiqued. Mandela should be a symbol for all South Africans, not just for the ones who can afford it.