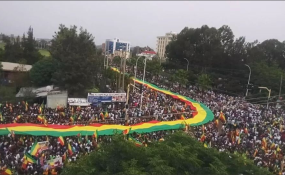 Photo: Screenshot/Addis Standard
By Tameru Regasa
ADDIS ABABA- Members of the Addis Ababa EPRDF Youth League expressed their commitment to support Prime Minister Dr. Abiy Ahmed's reforms to ensure togetherness and combat the destructive activities of anti-peace elements.
League Chairman Tibebu Bekele told The Ethiopian Herald that the youth is ready to taking part in the ongoing efforts to bring about national consensus through reconciliation, forgiveness and peace.
The Chairman stated that since taking office in last April, Dr. Abiy has taken unprecedented political reforms that have been proven successful in restoring peace, stability and widening the political space.
The release of political prisoners, lifting State of Emergency as well as the resumption of diplomatic ties with Eritrea and inviting contestant political groups to peaceful struggle are among the measures mentioned by Tibebu as the success of the Premier.
He said the election of Dr. Abiy is a timely act in curtailing the destruction could cause by the political, economic and social problems the country has been encountering over the years. The meticulous leadership of the new PM also brings reliable stability in the four corners of the country.
"As the country is a home to peoples of different ethnic and religious backgrounds, a leader who preaches love and unity is needed for this country and Dr. Abiy has come to the position at a perfect time."
The Chairman called on the government to make speedy responses to halt the displacement of citizens since they have a constitutionally- guaranteed right to live and work in the place they choose.
Similarly, Gullele Woreda Youth League Chairman Dirriba Regasa also said that the Premier's priority to public interests was clearly manifested in his inauguration speech before the House of Peoples' Representatives. In his speech, Dr. Abiy pledged to work to answer the legitimate public concerns.
Dirriba noted that the Prime Minister is also successful in persuading the youth who were engaged in the anti-government protests to turn their face to peace and development and taking part in the nation building.
The rallies which have been staged in all corners of the country showcased the public's strong support for the multifaceted changes Dr. Abiy has bring about, he added.
Samuel Teshome, former chairman of the League said on his part that Prime Minister Abiy's approach of breaking the wall of enmity and building the bridge of love is a viable way to build the new Ethiopia.
Prior to Dr. Abiy's assuming of power, Ethiopia experienced massive public protests and instability and chaos were reached in some parts of the country due to public grievances, said Teshome adding that the new leadership has overcome monumental challenges to ensure peace and stability in short period.