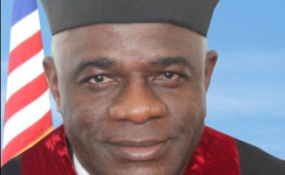 Photo: The New Republic
By Bridgett Milton Edited By Winston W. Parley
Two lawmakers of the ruling Coalition for Democratic Change (CDC) Thomas P. Fallah and Acarous Moses Gray have submitted an impeachment bill against Associate Justice of the Supreme Court of Liberia Kabineh M. Ja'neh at the House of Representatives.
The CDC Montserrado County District #5 Rep. Fallah and District #8 Rep. Gray are accusing Justice Ja'neh of alleged proved misconduct, abuse of public office, wanton abuse of judicial discretion, frauds, misuse of power and corruption.
The two lawmakers are requesting an immediate investigation of Justice Ja'neh and his subsequent removal from the Supreme Court Bench for allegedly committing a serious official misconduct by engaging in the wanton and unsavoury exercise of his purported judicial description.
Rep. Fallah and Rep. Gray claim that Justice Ja'neh's exercise of judicial description far exceeded the bounds of elementary judicial interpretation of issues simply to satisfy his personal ego and perhaps vested interest "as it was in controversial Code of Conduct debate just to unduly hurt, shamefully impede and gross frustrate the administration of justice."
The two lawmakers say Justice Ja'neh continues to behave as if he were a law unto himself to the detriment of others.The petitioners say the constitutional guarantee of immunity to judges and justices under Article 71 of the 1986 Constitution is not absolutely free.
They argue that the immunity becomes constitutionally sacrosanct when justices express views, opinions, render judgments or rulings on matters of law by applying both statutory and customary laws in accordance with the standards enacted by the Legislature.
Meanwhile the petition was turned over to Speaker Bhofal chambers and he has set up a seven - man committee to report in three weeks.But in a counter argument, Montserrado County District # 10 Rep. Yekeh Kolubah says the petition should not be passed because it is not in the interest of the Liberia people.
Rep. Kolubah believes that if there is anybody to be impeached it should be President George Manneh Weah.He accuses President Weah of allegedly violating all the laws in the country including the Code of Conduct.
Rep. Kolubah threatens to present a petition for the impeachment of President Weah after the July 26 Independence Day celebration.In reaction to President Weah's call for Liberians to hold their hearts and be patient, Rep. Kolubah says he thinks it is the president that should hold his heart and stop building houses around in the country.He says he is not afraid to talk for the Liberian people.-