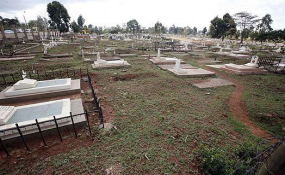 Photo: Nairobi News
By Collins Omulo
Nairobi residents have been urged to embrace cremation as the county grapples with lack of space in its cemeteries.
County Health minister Hitan Majevdia said the number of burials is on the rise, with an increase from 119 in April to 122 in May and 131 in June.
However, he said the number of those cremated continues to drop. In the last three months the cremation numbers stood at a paltry 22, with 16 bodies cremated in April and May and six in June.
'WE HAVE NO CHOICE'
"The perception about cremation should change and the church should lead in bringing about that change. They should encourage cremation. It seems many people fear cremation, but we are working to ensure that Nairobi residents are receptive towards it. My prediction is that they will have to do it whether it will take 20 years or more. We have no choice," he said on Wednesday.
He also pointed out that it is expensive to bury than cremate as families have to dig deep into their pockets to buy a coffin and other related stuff and pay the mortuary bill.
He said there is also the emotional expense brought about by the agony families go through as they await burial.
In 2008, the cost of burying a body at Lang'ata cemetery rose from Sh17,400 to Sh25,000, but that of cremation remained at Sh9,000 to encourage people to use this as an alternative.
TRIED IN VAIN
Five years ago, the regime of former governor Evans Kidero tried in vain to convince Nairobi residents to cremate the dead.
The former county secretary Robert Ayisi even said a site to put up another crematorium in Lang'ata had already been identified.
Last month, City Hall decried the low cremation numbers in Nairobi, citing African customs as a major hindrance. Currently, the county government is seeking an extra 200 acres of land for a public cemetery.