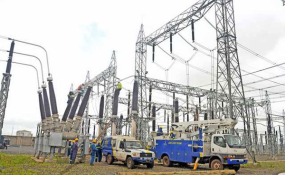 Photo: Daily Nation
Manufacturers have decried the high cost of power in the country, terming them as unsustainable.
They took issue with utility firm Kenya Power for issuing them with exaggerated bills which, they added, will most likely run them out of business.
Mr Wambugu Nyamu, an industrialist who assembles speed governors in Nyeri, said his experience with Kenya Power had worsened in the past months due to the inflated bills.
He said the billing had not been consistent for months.
"I think we should think alternative sources of energy because the bills we are getting are not adding up," he said.
He further stated that the Kenya Power staff had not been reading the meters but instead only "guessed" his charges.
STABLE POWER SUPPLY
"Only 30 per cent of power meters are read, especially in this area. The remaining portion they guess after disconnecting power" he said.
He spends between Sh40,000 to Sh50,000 per month, which is 15 percent of his total expenditure. Mr Nyamu, however, says the power supply is stable.
Similar concerns were raised by the Meru Chamber of Commerce chairman Gabriel Miungi, who said the cost of power had become unsustainable for most business people.
He said businesses engaging in small scale manufacturing had been receiving power bills that exceeded their rental costs.
"About two years ago, our main problem was reliability of power, forcing businesses to invest in generators. But since last year, power bills have shot through the roof. Small businesses are paying more than Sh10,000 per month. Doing business has become difficult," Mr Miungi said.
Mr Paul Kiambi, who owns a mill in Meru, said power costs were not friendly to cottage industries.
USE DIESEL
"Every month, we pay up to Sh20,000, but it can rise to Sh30,000 when we use driers. It is much cheaper to use diesel," Mr Kiambi said.
The story is, however, a little different in Eldoret. Mr Kenneth Mutai, the Ineet Millers chief executive, said that his power bills had stabilised for the past three months.
He attributed this to complaints from customers over inflated power bills in April this year.
Angry customers lodged complaints to the energy provider against irregular bills dating back to October 2018.
BIG INPUT
"About three to four months ago, I used to pay between Sh200,000 to Sh400,000 for my power bills, but currently I pay between Sh150,000 to Sh200,000," he said.
Mr Mutai, who is also the national chairman of Small Millers Association, said power is a very big input for millers like him.
He decried the rising petroleum prices saying that it was a major challenge to them. "When you look at the current diesel prices, you realise that it is more expensive to use petroleum than electricity," added Mr Mutai.
Reports by Irene Mugo, Dennis Lubanga and David Muchui