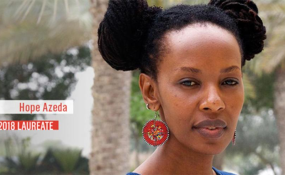 Photo: New Times
By Julius Bizimungu
Rwanda's renowned artist and curator, Hope Azeda, has been honored among the 2018 McNulty Prize Laureates, the organisers announced on Wednesday.
Azeda is recognised for her invaluable work through the Ubumuntu Arts Festival, an international event that brings together performers from Rwanda and around the world to explore the trauma of conflict and the depths of the human experience.
She is among the four recipients from different parts of the world that The Aspen Institute and Anne Welsh McNulty announced as part of the 11th annual John P. McNulty Prize Laureates.
According to the organisers, the recipients are extraordinary individuals who have effectively leveraged their expertise and entrepreneurialism to create meaningful change across the world.
The organisers described Azeda as someone who's "amplifying the arts to move Rwanda and other countries from trauma to understanding".
Other recipients are giving Indian voters and policymakers access to transparency and truth, providing schoolchildren with glasses so they can see well enough to learn, and teaching inclusive civic values to teenagers in Australia and the US, helping communities to determine their own paths.
In a statement, Anne Welsh McNulty, President of the McNulty Foundation and Trustee of the Aspen Institute, said that Hope Azeda, Dave Gilboa, Mehrdad Baghai and Govindraj Ethiraj have answered the call to use their talents, resources and platforms to expand the reach of opportunity to people and communities around the world.
"By removing economic and social barriers, the Laureates are making the world healthier, fairer and more open," she noted.
For Hope Azeda, it is an honour and an invaluable recognition.
"I am honored to have been named a McNulty Prize Laureate. It is humbling when a platform for expression and healing from Rwanda is appreciated internationally," she said, adding that the award is dedicated to everyone who has made the Ubumuntu Arts Festival the success it is today.
The McNulty Prize is given annually to honor the visionary work of Fellows of the Aspen Global Leadership Network. The 2018 Laureates will be recognized on July 25 at the Resnick Aspen Action Forum, and each Laureate will receive US$25,000 to further his or her venture.
An international jury, including former Secretary of State Madeleine Albright, international statesman Olara Otunnu, and development expert Brizio Biondi-Morra will select the winner, whose venture will receive US$100,000, and be recognised in November in New York City.