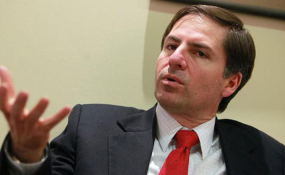 Photo: Capital FM
Rwanda, Kenya, Uganda and Eritrea have a new country regional World Bank Country Director.
Felipe Jaramillo took over as the new regional director effective July 1, 2018, succeeding Diarietou Gaye, who has been appointed as the World Bank's Director of Strategy and Operations for the Africa Region.
Under his leadership, the World Bank is expected to continue supporting inclusive growth and poverty reduction through a wide array of financial products and technical assistance, the Bank said in a statement sent to The New Times yesterday.
Jaramillo will be overseeing an operational portfolio of over 80 projects representing a total investment of more than US$12 billion to help countries share and apply innovative knowledge and solutions to the challenges they face, it said.
"In Rwanda, the focus will be on supporting the Government in the implementation of the National Strategy for Transformation," the statement added.
Jaramillo will oversee the development of a World Bank Group Country Partnership Strategy that will focus on accelerating economic growth that is private-sector driven and job creating.
Other tasks will be improving productivity and incomes of the poor through rural development and social protection and supporting accountable governance through public financial management and decentralisation.
Jaramillo is the outgoing director of the World Bank Group's Macroeconomics, Trade and Investment Global Practice (MTI) where he led a global team of over 450 economists.
Since joining the World Bank in 2002, he has also served two terms as Country Director in the Latin America and Caribbean Region.
Before joining the World Bank, Jaramillo served in the public service of the Government of Colombia, holding offices in the Ministry of Finance, the Central Bank and the Ministry of Trade.
He holds a PhD in Development Economics from Stanford University.