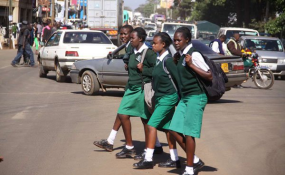 Photo: Daily Nation
By Ouma Wanzala
Public schools have been plunged into a financial crisis because of a government delay in releasing funds despite promising to do so two weeks ago.
The government has only released 13 out of the 30 per cent of the capitation, leaving secondary schools with a shortage of Sh6.3 billion.
With only two weeks left before the end of second term on August 2, head teachers are warning that they may have to close the schools earlier because they are unable to sustain students in schools.
VICTIMISATION
Most schools have not been able to pay workers, teachers employed by boards of management and suppliers.
A head teacher in Kiambu said he has not been able to pay his staff since June and had run out of excuses to convince them to continue working.
School funds to be released this week: PS
"I am helpless because I cannot pay staff and buy food for the students because no supplier wants to be associated with institutions that delay payments," said the head teacher who asked not to be named for fear of victimisation.
Secondary school heads in western Kenya said they are helpless and asked the government to allow them to close schools until the funds are available.
SPECIAL SCHOOLS
Kenya Secondary School Heads Association chairman Kahi Indimuli said the delay in releasing funds was worrying.
"Schools have no money to keep students in schools. The most affected institutions are day schools where the government provides everything," said Mr Indimuli and asked the government to release the funds in two tranches to end the crisis.
Special Schools Heads Association of Kenya chairman Arthur Injenga said the more than 300 special schools are in a financial crisis.
WAVE OF UNREST
"For months we have had no money to take care of our students," said Mr Injenga.
Kenya National Union of Teachers national treasurer John Matiang'i and his Kenya Union of Post Primary Education Teachers counterpart Omboko Milemba criticised the government for the delays.
"Schools have no money and this could be the reason why many have been hit by unrest since head teachers are unable to meet the demands of students," said Mr Milemba.
He asked school heads to shut the institutions if they will not have received funds by Monday.