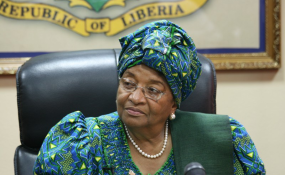 Photo: Premium Times
The International Republican Institute (IRI) and the National Democratic Institute (NDI) have identified former Liberian leader Ellen Johnson Sirleaf as co-chair their observer mission to Zimbabwe's elections later this month.
Johnson Sirleaf will be joined by US congresswoman Karen Bass along with former US Assistant Secretaries Connie Berry Newman and Ambassador Johnnie Carson.
The ex-Liberian president said Zimbabwe could use the election to chart a new trajectory after years of political and socio-economic turmoil.
"These elections provide an opportunity for Zimbabwe to make a clear break with its past that would be significant not only for the Zimbabwean people, but for all of Africa," Johnson Sirleaf said.
Bass weighed in, adding that: "I'm delighted to be part of the leadership of this joint IRI-NDI international election observation mission. We hope our presence will help contribute to more credible elections."
With 25 long-term staff and 14 long-term observers already in the country Johnson Sirleaf's delegation from IRI and NDI will bring in 22 short-term observers who will be arriving on July 24.
"The IRI-NDI observation effort, which began with an in-country presence on April 23, also included a June 3-8 Pre-Election Assessment Mission, which issued a detailed statement at the conclusion of the mission that set forth 13 recommended steps for enhancing public confidence in the electoral process," the statement said.
According to the statement the IRI-NDI mission will conduct activities in accordance with the Declaration of Principles for International Election Observation and Code of Conduct launched at the United Nations in 2005.
"And will base its findings on international standards for elections. The mission's approach is consistent with regional instruments to which Zimbabwe is a signatory, including the African Union Declaration on the Principles Governing Democratic Elections in Africa and the SADC Principles and Guidelines Governing Democratic Elections.
"All activities will be conducted on a strictly independent and nonpartisan basis, without interfering in the election process and in conformity with the laws of Zimbabwe," said the statement.
IRI-NDI have observed over 200 international elections gaining a reputation for independent assessments.