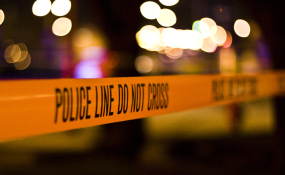 Photo: Tony Webster/Flickr
By Chibuzo Ukaibe
An accident involving the motorcade of the minister of Youth and Sports, Solomon Dalong, has led to the death of one person and left 20 others with various degree of injuries.
Mr Sunday Jika, the officer-in-charge of Gombe State Marshal, a local security outfit, who was amongst the minister's motorcade confirmed this to newsmen on Saturday, in Gombe.
"We received the minister at the airport and on our way back to town, a Peugeot 406 car ran into the motorcade of the minister hitting the pilot car," he said.
According to Jika, the car went up in flames almost immediately. They were however, able to bring out three persons from the burning car but driver, they could not rescue. They also helped the passenger in the other vehicle that was in the minister's convoy.
"In the other bus among the minister's motorcade, we also brought out people. All the injured persons have been taken to Gombe Specialist Hospital and Federal Teaching Hospital (FTH) Gombe," he said.
At the specialist hospital and FTH, doctors were visibly seen attending to the accident victims at the casualty department of the hospitals.