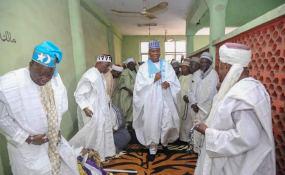 Photo: Bukola Saraki/Twitter
By Romoke W. Ahmad
Ilorin — The Emir of Ilorin, Ibrahim Sulu-Gambari yesterday elevated the Senate President Bukola Saraki to the position of Waziri Garin of Ilorin, the traditional Prime Minister of the Emirate.
The emir announced this after a special prayer he organised over the recent acquittal of Saraki by the Supreme Court from allegations of false assets' declaration.
By this elevation, Saraki who is also Turakin Ilorin, becomes the fourth Waziri Garin, succeeding his father, the late Olusola Saraki who held the title until his demise in 2012.
The emir said it was in acknowledgement of Saraki's passion for the development of the emirate and Kwara as well as his political exploits that had brought fame to the state.
"We are excited by your political exploits because of late you have become the beautiful bride whom politicians across the board are beckoning to be in their camps. This is a show of recognition of your worth and achievements as a politician. We are very proud of you.
"It is from here that we prayed for you to become governor, it was here that we prayed for you to become senator and it was from here that we prayed for you to become Senate President and all these came to reality. Today we are also praying from here that God will elevate you beyond your present position." the emir said
Saraki promised to continue in his commitment to looking after the well-being of the people of the emirate and the entire state.