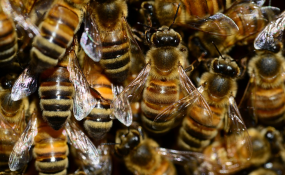 Photo: PollyDot/Pixabay
By Waikwa Maina
Nature-based enterprise is a new terminology that does not escape the ears of many small-scale farmers.
It is an eco-friendly way of engaging in economic activities where the community invests in nature conservation then waits for the fruits that come with it.
Some activities include farming, agritourism, nature tourism, eco-tourism, and eco-preneurship.
Beekeeping, however, tops the list of nature-based enterprise enticing thousands of small-scale farmers diversifying to the rewarding apiculture which is gaining momentum in parts of Nyandarua County.
Mr John Muturi, director of the beekeeping department at Friends of Kinangop Plateau, an organisation behind the initiative, says the region has in excess of 20,000 beehives owned by about 300 farmers, compared to 60 farmers 10 years back.
He says a majority of farmers own between 10 and 100 beehives.
At Murungaru village, we find Ms Lydia Ndaire, 60, relaxing in the shade of indigenous trees.
A few metres away is a small garden with some fruit trees. Further on is a small plot with white beehives. Ms Ndaire is relaxed because that morning, she earned Sh700 after selling 20kg of milk produced by her two cows.
She is now waiting for the evening milking shift where she will pocket Sh420 from more sales, earning her a total Sh1,120.
From her simple calculations, half the money is the production cost, covering labour and feeds, and the balance is profit.
Ms Ndaire bought the two dairy cows last year after selling honey from her 15 beehives.
"I sold the 80kg of honey I harvested at a go early last year selling each kilo at Sh600 raising Sh48,000 which I used to buy the two calves," she says.
At Muthaiga village, Ms Ruth Muringe is among pioneer beekeepers in her area and plans to double the number of beehives in two years, now that she has no school fees burden hanging around her neck.
She says each of the hives produces 20kg in a single harvest, done two to three times in a year, depending on weather patterns.
"I used money from beekeeping to educate my children and I am now using it to support the education of my grandchildren. I cannot compare potato farming with beekeeping, especially after comparing labour, size of land and other related costs of production in potato farming," says Ms Muringe.
She recalls a time she sold honey to raise Sh18, 000 to pay casual workers who harvested potatoes from her farm.
"Potato market was so poor we decided to harvest and store until the markets improved, we had no cash to pay the workers," she says.
At Mwihoti village, Mr Wachira Kariuki, a father of four, has used proceeds from his 10 beehives to venture into the hospitality industry, the Plovers Eco-Camp and Home Stay, which is a nature conservation venture, providing a wide range of services including environmental education, cultural heritage touring, agritourism, birding and botanical excursions.
The beekeeping director, Mr Muturi, says it's a good business because there is a market for honey.
Here, the farmers use Langstroth beehives, each selling at a subsidised Sh6, 500 from usual Sh7, 500 from other suppliers, whose recommended spacing is 3 by 3 feet between bars.
"For commercial beekeeping, we advise the farmer to start with 15 hives, but one can still start with whatever the amount he or she has then increase gradually.
"Depending on the weather, it's important for a farmer to have the bee farm inspected by an expert every one or two months to ensure the colony is not attacked by any disease or insects," says Mr Muturi.
He says the biggest challenge facing the beekeepers is the use of farm chemicals, which has drastically reduced the bee population, which takes up to six months to colonise a hive, unlike 10 years ago, when it took about a week.
The farmers are planning to go into value addition to maximise their earnings, and they have already bought part of the equipment they need for the job.
"With the processing plant, farmers will be able to extract all eight by-products from beekeeping unlike now that they are only able to produce and sell honey," said Mr Muturi.
Students of Naikarra high School in Narok West demonstrate how honey is harvested during the launch of a bee keeping unit.