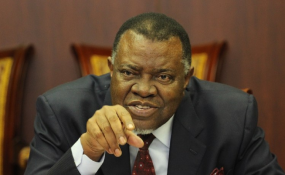 Photo: The Namibian
By Luqman Cloete, Adam Hartman and Sakeus Iikela
SOME of the recommendations made during land consultation meetings held last week were that the government must expropriate land from absentee landlords without compensation, and to return ancestral lands to the rightful owners.
The consultations are being held ahead of the second national land conference scheduled for 1 to 5 October this year, which seeks to address and review the resolutions taken at the first national land conference held in 1991.
It is also expected to consider issues such as ancestral land restitution, the willing buyer-willing seller approach, land expropriation in the public interest without just compensation, urban land reform, and the commercialisation of communal land, amongst others.
The call for the government to expropriate land from absentee landlords without compensation were made in Windhoek, and at Swakopmund and Keetmanshoop last week.
Participants at the Khomas meeting on Friday proposed that the conference must pass a resolution to allow the government to expropriate farmland from absentee landlords without compensation.
The participants also said that this expropriation would be done to address the injustices of land lost by indigenous groups during colonial times.
The participants said if a resolution is passed, it would address the challenges experienced in the past when the government was taken to court over land expropriation.
AR movement leader Job Amupanda suggested that farms owned by foreign nationals should also be expropriated without negotiations because "there is a clear resolution that foreigners must not own land in Namibia".
According to him, about 2,5 million hectares of farmland is owned by foreign nationals. Amupanda also proposed that long-serving farmworkers be given shares or land on farms where they have been working.
Among those who supported Amupanda's suggestion was Khomas regional governor Laura McLeod-Katjirua, City of Windhoek mayor Muesee Kazapua, and representatives of the landless /Khomanin people.
Absentee landlords should be compelled to sell their land to the state, or risk such land being expropriated without compensation, the draft recommendations state. The issue of absentee resettled farmers would also be discussed at the land conference, according to the Khomas region's draft recommendations.
Apart from expropriation without compensation, Khomas participants want the conference to address the issue of urban land, and the introduction of a regulatory framework to cap skyrocketing rental and municipal land prices. Besides, the issue of ancestral land should enjoy prominence, it was recommended, and the conference should furthermore propose the establishment of an ancestral land tribunal, which would preside over ancestral land claims.
Participants from the Erongo region who attended last week's two-day national land reform consultations at Swakopmund said the government must not pay for land that was stolen, but only for the improvement of infrastructure on farms.
They added that the pressing issues of past injustices should be taken into consideration, especially when it concerns the colonial forces who engineered genocide at the start of the 20th century.
Fabianus Uaseuapuani from the Zerua Traditional Authority said while they do not support 'land grabbing', the allocation of land should consider those who lost land in the past, or who need land.
Uaseuapuani stated that foreign-owned farmland should be in the hands of Namibians, and that no foreigners must own land in Namibia. Kassie Shilongo of the Affirmative Repositioning movement said it was "undisputed that the land was taken".
"There is no use in compensating for land that was taken by force. The government must amend the Constitution to make it possible to expropriate land without compensation. The willing buyer-willing seller policy has failed. The willing buyer-willing seller [principle] must also apply to communal land," he stressed. He asked if there is a willing buyer but no willing seller, does that mean no land is available?
"We must force those in possession of land to surrender at least 70% of it to the government to use for the public interest," he added.
Another participant said expropriation without compensation has to apply for all, and the state must own the land.
"In other words, there should be nationalisation of land," he said.An elderly woman from the Tsoaxudaman Traditional Authority, Victoria Dausas, called on farmowners to help their workers with some cattle and a place to build for their futures. She also called on farmers not to penalise poor people too harshly if the poor person's animals end up inside the farmer's area.
Dausas said Farm Okongawa near Otjimbingwe was given to the Tsoaxudaman by the government, but that a mining company took it over - calling it "stealing".
"By law, if something is stolen, then they must give back two-fold. If this farm was robbed from us, will they not give us another farm?" she asked.
Swapo youth leader Sioni Iikela called for the intervention of those communities destitute along rural corridors during resettlement programmes to be granted a special category - that is for a certain number of farms to be allocated to them until they are resettled to ensure that they have somewhere to go.
"Land at Usakos belongs to TransNamib. How can the local authority use that land? They have the biggest space of the residential area, but they do not want to let go of it. It is prime land where people want to invest," submitted Usakos mayor Akser Mwafangeyo.
Erongo governor Cleophas Mutjavikua said at the opening of the consultations at Swakopmund that those in public office must ensure land delivery is a top priority and a key performance area.
"We should not be reacting to challenges which the electorate has entrusted us with. We spend too much time reacting when people want a place to erect shelter - then we react. We need to plan."
//Karas governor Lucia Basson told a consultative meeting at Keetmanshoop on Thursday last week that the land question is a political, social and economic issue.
She added that the land issue is about addressing dispossession, equity, and promoting productive and sustainable livelihoods through implementing programmes targeted at poverty alleviation.
A report compiled after the meetings shows that participants called for the abolishment of the willing buyer-willing seller policy as it was not working, and that absentee landowners should lose their land.
According to the report, the rightful owners must claim ancestral land; and the German and South African governments must support those who lost their ancestral land through housing, education and infrastructural investments in small towns.
Basson said this time, the people are also guided by different experiences as Namibians on what has worked, what did not work, what is currently not working, and what needs to be adjusted, fine-tuned or discarded regarding the country's land policy and legal framework.