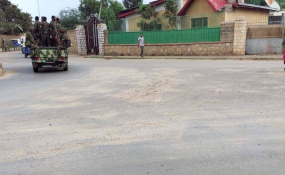 Photo: Addis Standard
The Ethiopian Ministry of Defense warned on Saturday it will take measures to restore law and order to Ethiopia Somali regional state located in the eastern part of the country.
In a press statement, the ministry said it will take necessary constitutional measures to restore law and order as well as peace and security of residents in Somali regional state.
"The ministry will not sit by and watch unrest particularly in Jijiga city, capital of Somali regional state. It will take the necessary measures to ensure that peace and security of residents of the regional state are secured," said the statement.
The statement didn't mention who is threatening peace and order in the region, but it comes after the Ethiopian army seized the regional parliament and television station of the Somali regional state government.
Unconfirmed reports also indicated the Ethiopian army has laid siege to the Somali regional state palace where Somalia regional state President Abdi Omar Mohammed is allegedly holed up.
The seizure of local government offices and allegations the army wants to arrest Mohammed sparked riots in the city with an unknown number of casualties and property damage.
Ethiopia started test crude oil production in June, the first ever for the East African country, raising hopes of economic transformation for its estimated 100 million population.
The oil fields are in Ethiopia Somali regional state and the region is also thought to have the large reservoir of natural gas.